You are on the hunt for the best carry-on luggage for your laptop. But with so many options, how do you know what the best carry-on luggage is for your laptop? Is there anything you should know before you buy? Here are the essential considerations you need to make before you buy carry-on luggage for your computer.
The Best Carry-On Luggage for Your Laptop
As I said, you need to ask the question: "What is the best carry-on luggage for my laptop?" Unfortunately, for those looking for a laptop case, there's no consensus. The very best laptop bags will be large enough to hold a 15-inch laptop and its contents and have the room to accommodate a 15-inch laptop plus some extra clothing or items. 
Now many carry-ons will take your laptop, but then those are just regular carry-on luggage. 
To choose a carry-on laptop case you want the best, you don't want it to look like a diaper bag. 
The limit is what you need and want your case to do. Luckily for you, here at ALEON, we have more carry-on styles made for business travel, which means a laptop case. 
Durability
If you're going to travel with your laptop regularly, you want to make sure that your luggage is durable enough to withstand the bumps and bruises of regular travel. For its 10-year lifetime, Aleon's business attache is an excellent choice if you want a briefcase. If you need luggage with wheels, the vertical suitcase will be best. At ALEON, we have a ten-year worry-free warranty. The company stands behind the luggage as well.
They are worried about the warranty since many people claim to have a good warranty but only cover manufacturer defects. Call the customer service at ALEON and see how they treat you. Their warranty covers everything. The service is out of this world. Their goal is to make the most durable luggage on the market, and they have done just that. 
Material
Travel bags should be durable and robust enough to withstand the wear and tear of regular use. We highly recommend it is made from Aircraft Aluminum as it is environmentally friendly and will take quite a beating. The choice of material used for carrying luggage differs depending on your daily needs and circumstances. If you want a bag that is easy to store, you should go for nylon. If you plan to travel across countries or multiple time zones, you need to go for Aluminum Luggage( If you want a bag that looks good and will attract a lot of attention, choose an aluminum suitcase. 
Conclusion
Remember that when you travel, you have the option of checking a bag to save some time on your trip. For example, if you are only traveling for one night and checking a bag will save you time, it makes sense. But for people who travel for days, having all of your bags with you on your journey can be a great convenience. The only way to know which bag is right for you is to test it out. If you would like to know how to test out luggage for your laptop, be sure to read our comprehensive article on how to test luggage for your laptop. To learn more about carry-on luggage for laptops, and the best carry-on luggage for laptops, be sure to check out our site's dedicated article.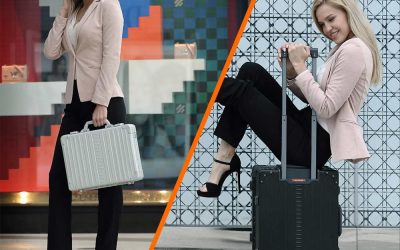 Traveling for business can be both exciting and daunting for any professional. From organizing long flights to double-checking the company presentation, much thought needs to go into planning ahead. One important decision that should not be overlooked is choosing...