Luggage for air travel. For those that have a lot of experience flying, you know how important it can be to have good carry on luggage.
Now, it could be more important than ever to have a good option when it comes to carry on luggage. The reason this is the case is that there were more than 1.9 million checked bags mishandled last year. In other words, travelers do not trust airlines with their bags as much as they used to.
One alternative to checking your bag could be underseat carry on luggage with wheels. This could not only give you a legitimate option to keep your bags with you on the plane, but you could also be more comfortable and have more convenience than ever before.
What carry on luggage features do you need to know about this type of bag? Why will it change the way you travel?
This is your guide on underseat luggage options.
Have Four Wheels
The first thing you will want to look for with your potential carry on luggage is to make sure that it has four wheels.
Why is this important? The simple answer is that it makes traveling with your carry on bag much easier.
First of all, with four wheels, you do not have to lift your carry on luggage on your back. That can save you some back pain and give you more energy to get to your final destination.
The second way having four wheels helps you are by lugging your bag through the airport and around your destination city. That is because, with four wheels, you can turn your bag in a different direction on a dime. With only two wheels, this may become more of an ordeal.
Another benefit of choosing a small four wheel bag is that it makes it much easier to move the bag down and store it underneath your seat on your flight. Some carry on bags may be difficult to fit or angle properly to get them under your seat, so this is one less issue that you would have.
Good for Business
Another thing that can benefit you with these types of bags is if you are a business traveler. You could be someone that needs to work on a proposal, edit a document, review legal documents, or even do some data entry before you land.
For those of you that want to work on the plane, you are going to need quick and easy access to your work materials. That can mean things such as your laptop, your cell phone, any papers having to do with your project, a calculator, and more.
What does this have to do with your luggage? Well, if you cannot store your luggage underneath your seat, you would have to get up into the middle of the aisle and remove something from your bag every time something comes up for work. Even worse than that, you may have to check your bag if you bring one that is too big.
That is where the right underneath luggage size comes in. It can fit just properly enough to allow you quick access to everything that you need for work. On top of this, the right luggage can give you organized storage space for your laptop, the charger for it, any lighting equipment that you use, and more.
Know Carry On Luggage Size Limits
One very important part of selecting the right carry on luggage is to be fully aware of what the typical size limits are.
The reason why this is so crucial is that if your bag is caught being bigger than the size allowed, the airline will make you check it. On top of this, they may even make you pay to bring the bag on board in certain circumstances.
Because of those two reasons, it is best to make sure that the bag is small enough to meet size limit requirements in advance.
For most airlines in the United States, the carry on size limit is going to be around 22 x 14 x 9 inches, although some lower budget ones may have lower limits. So, you are going to have to measure the luggage you want to bring home before you find out the hard way.
Strong and Secure Material
Finally, make sure that the carry on luggage that you want to bring with you is made of strong and secure material. Some luggage comes with a lock, so make sure that lock is very difficult to break.
In general, you want luggage that is strong and sturdy. One way this helps you is it can prevent items in your luggage from breaking if you happen to drop the bag.
Also, certain types of luggage could be susceptible to water getting into it. It's always a good idea to eliminate that concern by finding a case made of a waterproof material.
Get Underseat Carry On Luggage With Wheels
These are the biggest things that you need to keep in mind when it comes to underseat carry on luggage with wheels. Think about the main purposes you have for this luggage and how it is going to fit under your seat as a carry on.
Also, make sure it can help you with your business if that is why you need it, and make sure it is made from material that will protect what is inside.
Do you want to have luggage that can fulfill these needs? See what we have available here.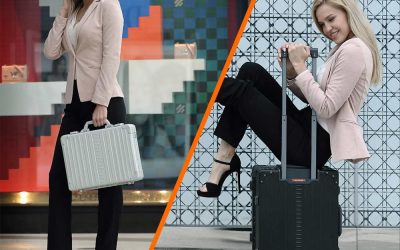 Traveling for business can be both exciting and daunting for any professional. From organizing long flights to double-checking the company presentation, much thought needs to go into planning ahead. One important decision that should not be overlooked is choosing...