Are you a lawyer in search of the perfect briefcase to impress clients, elevate your style and meet your everyday needs? Finding the right briefcase doesn't have to be complicated. With an understanding of functionality and style considerations, you can find an ideal combination that works for you. In this blogging guide, we'll take a deep dive into everything from choosing between leather or fabric materials features like compartments and locks, as well as professional design details. So read on for our ultimate guide to selecting the best lawyer briefcase for any attorney – no matter their individual lifestyle choices!
Leather, Fabric, or Aluminum?
A few different materials can be used to make a laptop case, and each material has its own set of pros and cons. Aluminum cases are often seen as the most high-end option, and they have a certain elegance. However, they are also quite expensive and can be easy to care for. Fabric cases are less expensive than Aluminum cases and come in various colors and patterns. But they may not be as durable as leather cases or aluminum.
We recommend going with aluminum for a briefcase, you will be able to lock your items and protect them from the elements. The case will say power and put together giving you status and look great with your suit.
What Features to Look for in a Lawyer Briefcase?
When choosing a lawyer briefcase, there are several features to look for. The most important is durability. The case must withstand being thrown around in a hurry or dropped on the floor. It should also be water resistant in case of rain or spills.
Another essential feature is organization. The briefcase should have compartments and pockets for organizing paperwork and other items. A key feature for lawyers is a section for holding a laptop or tablet. The case should also have a strap or handle for easy carrying.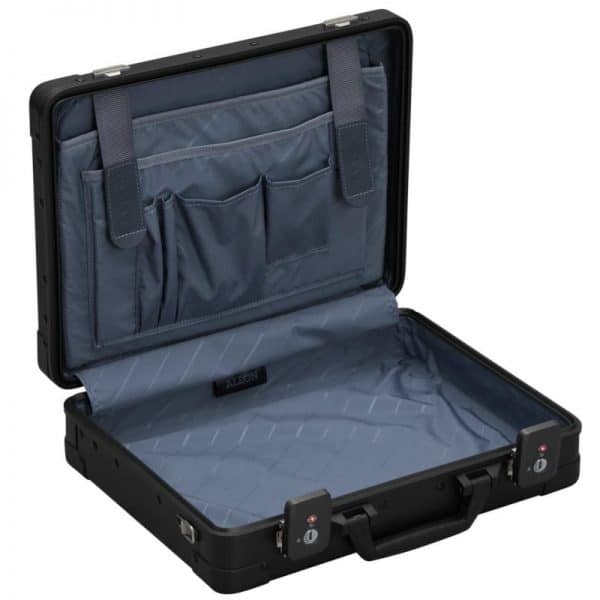 Price is also an important consideration when choosing a lawyer briefcase. The case should be affordable but not so cheap that it will not last long. There are many affordable options available online and in stores, so it is important to do your research before making a purchase.
Choosing the right lawyer briefcase is an important decision. It is important to consider the most important features to you and find a case that meets your needs. There are many options available, so take your time and find the perfect one for you.
What Will a Briefcase Say About an Attorney?
A briefcase is a professional accessory that many attorneys choose to carry. It often reflects their occupation and personality. For attorneys, a briefcase can say a lot about them.
First and foremost, a briefcase shows that an attorney is professional and takes their work seriously. It is also a tool that helps them stay organized and efficient. Attorneys can store important documents and notes in their briefcase, as well as other essential items they may need while at court or meeting with clients.
Additionally, a briefcase can be seen as a symbol of power. It conveys the message that an attorney is in charge and knows what they are doing. This can be important when trying to establish trust with clients or opposing counsel.
Finally, a briefcase can also reflect an attorney's personal style. Some choose to go with a traditional black case, while others may prefer something more stylish or colorful. Whatever the choice, it is an important way for attorneys to express themselves both professionally and personally.
How to Choose the Right Briefcase for Your Needs
Once you've considered these factors, it's time to start shopping. Here are some tips on how to choose the right briefcase for your needs:
1. Decide what you'll be using the briefcase for. If you're using it for work, then look for a professional-looking briefcase with plenty of organizational features. If you're using it for travel, then look for a lightweight and compact model.
2. Consider your budget. Briefcases can range in price from a few hundred dollars to a few thousand dollars, so decide how much you're willing to spend.
3. Think about what style you want. There are a variety of different styles available, from traditional leather briefcases to modern backpacks. Choose the style that best suits your needs and personality.
4. Shop around and compare prices. Once you've decided on the type of briefcase and style you want, shop around online and in stores to find the best deal.
Now that you know the different factors to consider when choosing a briefcase and what features to look for, you're ready to make your purchase. Those in need of a high-quality and stylish briefcase should check out our selection at Aleoncase.com We have a wide variety of options available, so you're sure to find one that meets your needs. Plus, our team is always available to answer any questions you may have about our products. Visit us today to get started on finding your perfect briefcase!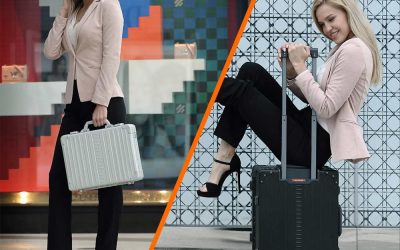 Traveling for business can be both exciting and daunting for any professional. From organizing long flights to double-checking the company presentation, much thought needs to go into planning ahead. One important decision that should not be overlooked is choosing...