Checked Bags Best Sellers
Rolling Briefcase Best Seller
Silver luggage is starting to make a huge comeback and take over as one of the more popular colors in suitcases, especially in aluminum carry-on and checked bags. Silver aluminum suitcases are perfect for someone looking to stand out in the crowd and make a statement with their luggage. Silver also provides an edge of sophistication that's hard to find in other colors.
Silver aluminum suitcases are lightweight, durable, and can take a beating when traveling. Many of them come with TSA-approved locks, so you know your belongings are safe and secure
What is the Most Common Luggage Color?
Black is overall the most common, but for aluminum luggage the winner is silver. Silver luggage is a popular choice because it's very stylish, timeless, and goes with everything. No matter what you're wearing through the airport, a silver suitcase will elevate your look to something more modern and futuristic.
What Silver Luggage Do We Offer at Aleon?
We have a very large selection to choose from for checked, carry-on, and personal item luggage. Our customer favorite for silver carry-on luggage is the 21" Classic Carry-On. Favorites for checked bags are the 26" Traveler Checked and the 30" Macro Traveler Checked.
These silver aluminum suitcases are the perfect luggage pieces for your next trip. Aleon also has some great options for aluminum personal items, such as our 17" Business Attache.
Why Choose a Silver Aluminum Briefcase?
One of the most apparent reasons is because it looks professional. Silver briefcases will go with all of your suits and not only complement your appearance but enhance it. Having an aluminum briefcase will also ensure that your irreplaceable valuables get where they need to be. Our 17" Business Attache not only looks great, but it has lots of features you wouldn't want to go without.
What Collection Features Should Your Luggage Have? 
A big concern with any luggage is whether or not it's going to keep your stuff safe.
An excellent feature for any suitcase or briefcase to have is TSA-approved locks.
Your luggage should also have a compression system to keep your items in place during travel. One of the most frustrating things about packing is when you take the time to organize, and then open your suitcase to a jumbled mess after your flight. Compression systems prevent this from happening.
Sometimes traveling gets rough. Something that will keep your luggage lasting longer, and protect your valuables is reinforced corners. Aleon luggage has double aluminum on the corners to make it more resistant to damage.
Wheels! Don't even think about buying luggage without wheels or with cheap wheels. Having smooth, easily maneuverable wheels are one of the easiest ways to make sure your traveling goes smoothly.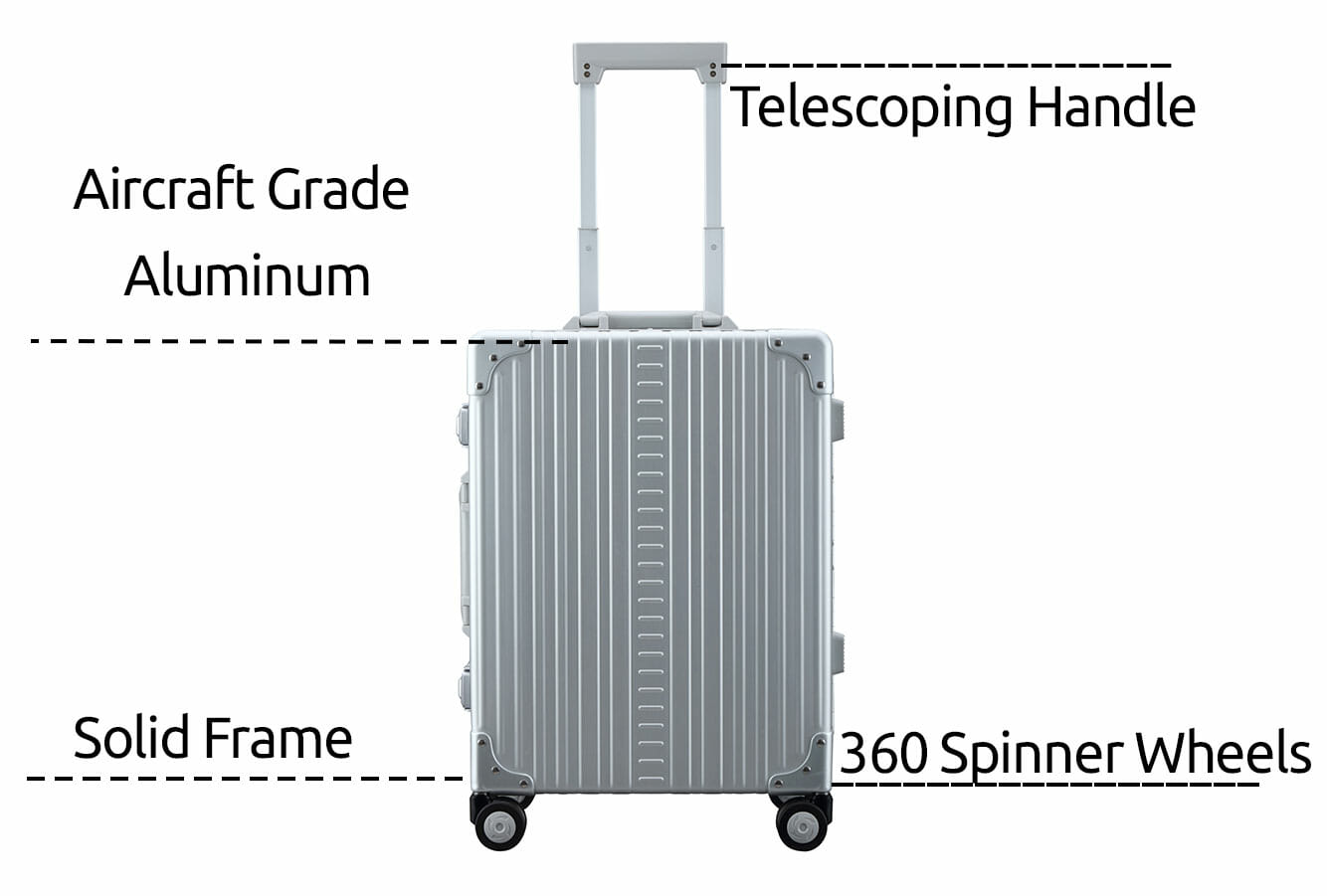 What is Better, Hard or Soft Luggage?
This depends on what you're packing. Some people prefer soft luggage so they stuff in a few extra shirts. Soft luggage is usually just a little lighter than hard luggage, so if you're always packing to the brim, soft luggage might be the right choice for you.
We're a little bit biased, but we would say hard luggage is overall better. Aluminum alloy luggage is way more durable than the fabric used to make soft luggage. Hard luggage also is better for protecting valuables. We all know that any checked bags are going to get ruthlessly thrown around out on the tarmac.
Is Hard or Soft Luggage Better For Carry-Ons?
Personal preference is going to play a big role on what you decide. Your carry-ons might not be getting tossed around by baggage handlers, but that doesn't mean they won't be thrown around when the plane hits turbulence.
Are Metal Suitcases Better?
It depends on what you want out of your luggage. Metal, aluminum luggage is more durable than leather, or fabric luggage because it's a stronger material.
Aluminum luggage will show you're an experienced traveler when your dents and scratches accumulate over time. These won't affect the functionality of metal luggage as it would on softer options. Plus, you'll love our spinner wheels.
Why Do People Choose Aluminum Luggage?
Some reasons people choose aluminum luggage have already been touched on, but let's do a recap. Aluminum is more durable than other luggage alternatives because it's made of metal. Although, like any luggage, it will get some scratches and dents after traveling, the overall function of the luggage can be expected to stay the same for years to come.
Aluminum luggage will also protect your valuables. Whether it's your checked bag, carry-on or personal item, having your belongings surrounded in metal is your best bet of getting everything to your destination unscathed.
Besides the immaculate functionality of aluminum luggage, many people choose it because they like how it looks. It's simple and sleek, providing a modern look that elevates any travel day attire.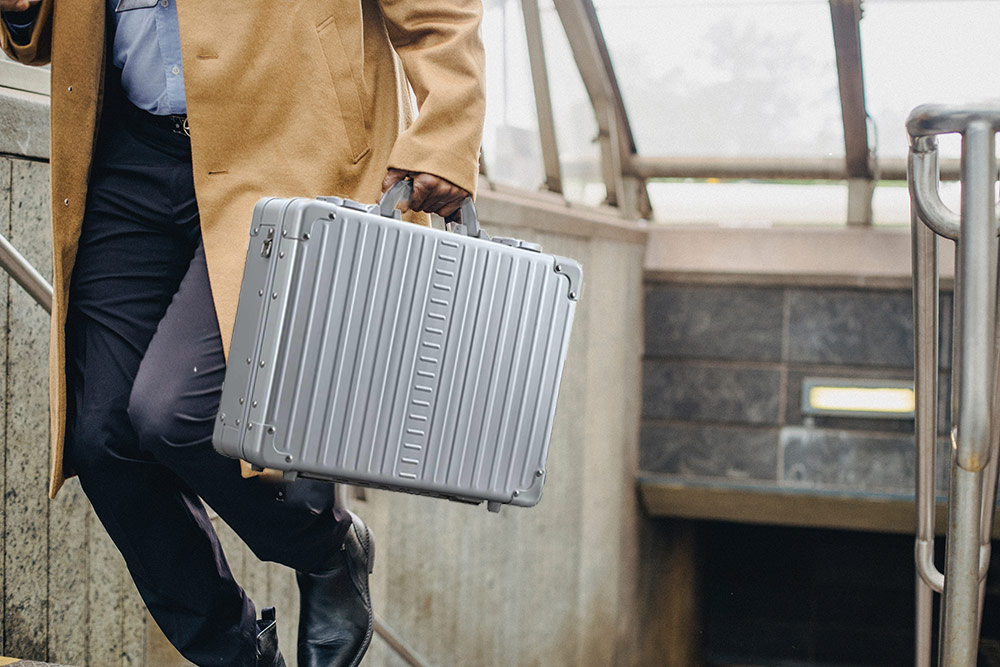 What is the Lightest Suitcase on the Market?
For lightweight luggage, it has a couple of carry-on options that weigh 1.7 kg. The lightest luggage on the market just weighs around 3.7 pounds. Makes you wonder if it can stand up to the destruction on the tarmac.
What is the TSA Approved Carry-On Size?
The maximum size for carry-ons is 22 inches x 14 inches x 9 inches. This sizing includes wheels and handles.