We went through the best carry-on luggage options, and the most popular one is this classic and vertical aluminum carry-on luggage. This is lightweight and durable luggage that is easy to use and carry. It has a combination lock and a compression board system that lets you pack more items before leaving on your trip. The outside material is made out of scratch-resistant aluminum.
The Best Carry-on Luggage (Classic and Vertical Aluminum)
This is a great aluminum luggage piece with multiple compression boards or pockets for the vertical case. It has 2 large compartments to store all your items needed. With 3 days of travel for messy packers and 4 days for the tidy packers.
The vertical case is a little narrower, but it is designed to get into and out of on the go without letting all your items falling out or having to lay down your aluminum suitcase to get into it. This luggage comes with four wheels, so you can roll it around easily with the push along or trailing behind you.
The handle locks into place for your desired high so that you can secure your bag when you're walking around. The best part about this carry-on is that it is water-resistant.
This carry-on luggage comes with no zippers and a rubber seal around the inside to ensure water doesn't get in. This lightweight travel luggage has a solid aluminum frame, so it won't bend or warp on you, with colors in Silver, Red, Black, Blue, and Bronze.
Why this is the best
It's simple.
This is the best carry-on luggage on the market today.
This luggage won't break anytime soon.
The square corners give you.
It's inexpensive compared to other aluminum alloy brands
It has a two-stage compressive compression system that makes the luggage hold weight very easily.
The material of this carry-on luggage is rugged and comes in 5 different colors.
They save a lot of space when you travel, and they're also easier to move around and can be a lot more convenient carry-on luggage.
The material is lightweight and durable so that you can bring it with you on all your trips.
It's durable, with a 10-year worry-free warranty. ALEON prides its self on customer service
The interior is soft and will hold up over the years.
The ALEON 4-wheel system is what sets this luggage apart from others. This luggage bag has a side compression to avoid unwanted pressure on the handle when it is packed.
The lid has 2 TSA-approved locking compartments that are easy to access. The outside material is made out of scratch-resistant aluminum.
The inside of the main compartment has more space for packing and storing your other stuff compared to other 21-inch classic carry-on styles.
How to choose between a Vertical Carry-on and a Classic Carry-on.
A carry-on suitcase can either be vertical or horizontal (classic). That tells you which way it opens.
To compare the two, you need to understand the features you want in your luggage, such as size and features.
A Classic suitcase will have a higher capacity but will be wider and heavier.
The Vertical Carry-on Suitcase will be narrower.
So what one is right for you? It depends on how you travel.
The vertical cases are best suited for always getting into their luggage before getting on the plane.
The main reason why I go with the vertical luggage is- When I have my pockets full, I can easily put my phone keys and wallet into my case as I'm going through security.
I can also easily pull out my tablet and have it in its own bin and close the case up easily. Then when I need my wallet, I can open up the case, grab it, and lock it back up in 2 seconds.
For me, it's the ease of traveling. Before I sit down, I take what I need out for the trip and put it overhead. The vertical case makes it super easy to travel.
If you want more space with your carry-on, I would recommend staying with the classic. If you still want the best of both worlds, get both and a small vertical case.
The pros
It's stylish with its durable aluminum material that is tough and durable. The wheels are easy to maneuver, and the bag is lightweight and easy to use. It has a wide variety of versatile sizes for any travel. They range from a rolling carry-on to a large checked suitcase, making it perfect for anyone with different packing styles.
The price is another pro, behind half the cost of other brands and adding additional quality to the luggage.
The wheels are now screwed outside, making them stronger than any luggage wheels on the market.
The cons
You can not over-pack any of these luggage items like you would softshell luggage. It will not expand, but being so, you won't ever have to check your bag when they are making everyone check the sizes to ensure no one cheats the seems.
Conclusion
Once you find the best carry-on luggage for you, then you'll be happy to pack for your upcoming trips. These luggage options are both inexpensive and quality.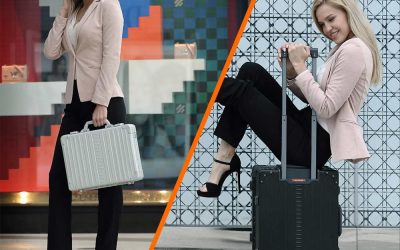 Traveling for business can be both exciting and daunting for any professional. From organizing long flights to double-checking the company presentation, much thought needs to go into planning ahead. One important decision that should not be overlooked is choosing...