Traveling is a lot of fun. Unfortunately, it can also be a total drag when you have to lug around your luggage. There are two main types of luggage: hard-shell and soft-shell.
The difference between the two is important. Soft-shell luggage is made of a flexible material, such as nylon, and it folds up to save space. Hard-shell luggage is made from plastic, metal/aluminum, or both, and it's just as sturdy as it sounds.
What is hard-shell luggage?
Hard-shell luggage is durable and made from hard materials. While soft-shell luggage is definitely easier to store, it's much more prone to damage if it gets dropped.
Are both types of luggage great? Probably not. Soft-shell luggage is smaller and lighter than hard-shell luggage, but it's not as durable as the former.
If you're traveling for less than a week, you should go in a hard-shell suitcase. On the other hand, if you're on a lengthy vacation or simply looking to save money, you should buy soft-shell luggage.
Our recommendation is to always go with the hard-side aluminum checked bags and carry-ons. Think of it as an investment. They might be a little bit more, but you won't have to replace them as often.
What is soft-shell luggage?
It's basically just luggage that's just a little softer and folds up. Think of it like a soft cloth backpack or duffel bag that's only folded down. These bags fold down a little differently, so they're not as compact as hard-shell luggage.
There are some features to consider when you're buying your next luggage set, such as: Should you go hard-shell or soft-shell? Does it come with a carry-on bag? Do you want it to be durable or just comfortable? If you're considering buying a soft-shell bag, just keep in mind that the wear and tear on them are always faster than hardside luggage, and they absorb water.
How to choose the right luggage
for your travels. We'll tell you what to look for to pick the right one.
The main feature to look for when buying luggage is weight, warranties, space, and user functionality.
Weight- this really only matters if you have large checked luggage and you need to save some weight and not go over 50 lbs.
Well, now there is a personal choice in a piece of luggage. Do you need exterior pockets because? If you do, you'll have to go with soft-sided luggage? Most hard-side luggage doesn't have a pocket on the outside.
The Aluminum luggage that opens vertically replaces the outside pockets as it makes it easy to get into your case.
Size of the luggage for overhead bins. Most hard side luggage can is adjusted, but we still recommend the hard side here. Only because you can overpack your soft side luggage. Then when the airline says sorry, that isn't considered a carry-on, you out of luck.
Hard-shell luggage Pros:
Metal construction (Aluminum or Metal Canvas)
Phenomenal durability
Very lightweight and easy to carry
Adjustable straps
Cons:
Expensive Takes up a lot of space
Not convenient to store in a suitcase
Pros and cons of hard-shell vs. soft-shell
Hard-shell luggage Pros:
Metal construction (Aluminum or Metal Canvas)
Phenomenal durability
Very lightweight and easy to carry
Always the right size for carrying on
Easy to clean
It makes you look very stylish
Cons:
Expensive Takes up a lot of space
Not convenient to store in another suitcase
Soft-shell luggage Pros:
Plastic construction (lightweight)
Sturdy but lightweight and flexible
It folds down flat and is easy to transport
Cheaper
Cons of soft luggage:
Not very durable and won't withstand years of wear not as durable as hard-shell luggage.
The biggest pros to hard-shell luggage are that they are incredibly durable and pack flat, so they are easy to carry. Soft-shell luggage can't stand up to the pressure of your legs pressing down on it, which is a major drawback. Choosing the right type of luggage is also an important choice.
Should you go with a hard shell, which can withstand higher temperatures and harsher climates, or should you go with a softer, slightly more breathable material, such as soft-shell, which is easier to transport? The only way to find out is to do your research and see which material is better suited to your travel style.
Conclusion
Don't worry; we're not about to pick sides in this debate. The right luggage for you depends on how often you'll need to use it. Pick your luggage based on your style. We highly recommend ALEON and have found them to be the best company to go with.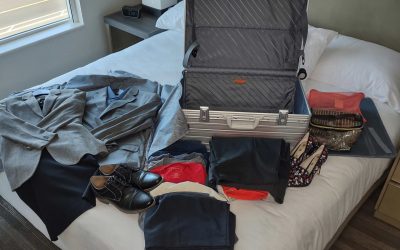 Who says traveling in a suit has to be dull and boring? With the right kind of case, you can do more than just look the part - it can also add fun, practicality and comfort your travel experience. Enter The 2 Suiter: designed with the busy businessman in mind this...