Just 70 years ago, there were only about 50 million travelers each year. Now, there are over 1.4 billion people who travel at least once per year.
And each one of those travelers has some sort of suitcase with them to get their stuff from one place to the next. But what kinds of suitcases are the best?
If you've tried out all sorts of suitcases and aren't sure which ones to settle on yet, this guide will convince you that a 4-wheel suitcase is the way to go! Keep reading to learn about the benefits and factors you should consider when getting one.
Benefits of a 4-Wheel Suitcase
If you've ever tried a 4-wheel suitcase, you probably know that there are many benefits to using one. If you haven't ever tried, you'll want to take notes because you may want to go buy a 4-wheel travel suitcase after reading this!
Easier to Maneuver
One of the best benefits of a 4-wheel suitcase is that it is much easier to maneuver than a 2-wheel suitcase or a duffel bag for that matter.
If you have to move around chairs, other people's bags, a car, or you name something else, you can maneuver around it! Since there are four wheels, you simply have to turn the suitcase to face a different way and it will continue to roll.
Not as Hard to Roll
If you have ever tried using a four-wheel suitcase, you may have noticed that it is not as hard to roll when it is upright. That's because you are not holding the weight of the suitcase in your hands. Instead, you just need enough force to move the suitcase upright on the floor.
There's nothing quite as nice as letting the suitcase roll gently alongside next to you rather than pulling with all the force you have to get it to move. But how does this happen? The 4-wheel suitcases have wheels that have 360 degrees of movement so that you can continue to roll them in any direction you please.
This also means that you can roll them in front of you (a push movement) rather than pull them behind you.
Better Balance and Stability
4-wheel suitcases are also designed to have better balance and stability than a traditional 2-wheel suitcase. That's because they are meant to pack things on both sides as they open from the middle. 2-wheel suitcases, on the other hand, will tip over if they are too overpacked.
There's nothing worse than being in a rush and having to stop because you need to pick up your heavy bag that toppled over.
Factors to Consider When Choosing a 4-Wheel Suitcase
Although you may now be convinced that buying a 4-wheel suitcase is the way to go, you may not know where to start.
Are you supposed to get a hard outside or does it not matter? Is there a specific design you should be looking at or not?
There are a lot of options out there, so knowing where to begin can help! Here are some factors to consider when buying a 4-wheel suitcase.
Determine Your Size
Just like with any suitcase, you have to know what size you are going to use. If you like to travel light, you may just need a carry-on luggage size. However, if you travel for longer periods of time, you may need to consider going with a larger suitcase.
If sometimes you pack light and other times you need more stuff, you could always get both so you have them to choose from!
Choose the Shell
This is going to be the overall aesthetic portion of the suitcase you choose. You need to determine what you want the shell of the suitcase to look like. This means color, hard vs. soft, ribbed vs. solid look, and more.
There is no right answer – it is all personal preference.
For instance, you may like soft-sided suitcases because it has a bit more give so you can fit more into the suitcase. Many times, these soft-sided suitcases have more zippers and pockets on the outside as well.
Hard shell suitcases don't have as much give or pockets on the outside, but they do contain everything nicely and will cap the amount of stuff you pack. Hardshell suitcases will also protect your stuff against rain or snow in specific climates since they are waterproof.
You have to decide what makes the most sense to you as it is all a personal preference!
Choose the Handle Wisely
This may not seem like something you need to consider, but the handle is what helps you move your suitcase. There are different types of handles out there – each with its own quality.
Knowing that you can pull it wherever you would like without having issues is important! And sometimes, you may prefer one specific handle over another.
Get Your 4-Wheel Suitcase Today
If you don't have a 4-wheel suitcase right now, you may be considering getting one now that you know the benefits and how easy it is to travel with one.
Whether you are in need of a carry-on size or a normal size, you should check out our 4-wheel suitcases today at Aleon. They are durable and built to last so you don't have to worry about breaking the bank when one breaks!
If you have any questions at all while browsing our site, don't hesitate to ask!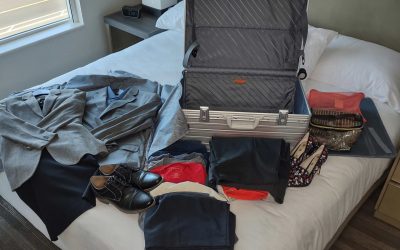 Who says traveling in a suit has to be dull and boring? With the right kind of case, you can do more than just look the part - it can also add fun, practicality and comfort your travel experience. Enter The 2 Suiter: designed with the busy businessman in mind this...