The aluminum case is a great way to protect your laptop. There are many functions that you may need when picking a briefcase or a wheeled case. Maybe you want to have a business carry-on case that does all of that and gives you the space for clothing. Here at ALEON, we are proud to say we covered all those areas with the most stylish, durable, and lightweight cases around. Let's jump into all the different cases that we have that offer an area for your laptop.
How ALEON aluminum laptop cases are different
When choosing an aluminum laptop bag, it's important that you take a look at the features and functions. Make sure to check all the compartments, pockets, and pockets for these items. Are you going to use the belt fastening feature? What about the slip pockets? Chances are you're using it for business. What about having 2 or 3 different dividers? You might need to read all the product descriptions that go along with your laptop case to make sure it covers all those scenarios. ALEON is happy to say that we have you covered. You can get a suitcase with the best functionality with a small list of features to keep in mind. These features are a perfect addition to the best laptop case. If you want more features than that, check out other lines of luggage.
The Function of a Briefcase
Do you need a laptop briefcase that gives you storage for all of your small business items? In that case, it's time to invest in a briefcase. You can get a classic briefcase and get some serious storage for all of your electronics and accessories. This briefcase will give you the space for a 15″ or 17 " laptop and is made to hold a laptop in a protective case while giving you the option to store documents. The best case we have here is the 17″ Attache Briefcase. It offers a timeless look that will fit with most styles and it's made out of nice quality aluminum, so you can feel safe with its safety. It also has one main compartment that will easily fit a laptop. If you don't need a laptop case, It can double as a tablet sleeve for a nice business look.
The briefcases come with a TSA lock and a 10-year worry-free warranty, and since it's made from aluminum, you don't have to worry about water because the case has a rubber seal where it closes, making it water-resistant.
The Function of a Wheeled Case
All our Wheeled business cases open vertically for easy access with TSA-approved locks and business dividers with a front compartment for a laptop. One thing that we do differently from other luggage brands is focused on business and luxury travel.
There are many reasons you would want a wheeled carry-on. For example, maybe you are traveling with your family and want to minimize the damage that could be done to your laptop. Another reason is that you want a long-travel carry-on, but that isn't easy if you need to store your laptop in a pocket or compartment inside. You can put your laptop into the hollow compartment and then make it a spacer between you and your children. A laptop sleeve is a great solution for people who travel frequently and need a laptop case. Whether you are going to school, work, or even taking a weeklong business trip, a laptop sleeve is the best way to protect your laptop and keep your bag packed.
The Different Laptop Carry-on Suitcase
Here at ALEON, there are a few different carry-on suitcases designed to carry a laptop and offer a padded sleeve for those laptops if you don't have a sleeve for it.
I'll name and go over a brief description of all our pieces of luggage that are great for the business traveler.
15″ & 17″ Aluminum Attache.
For the 15″ briefcase, you can fit a 13-inch laptop or tablet.
2 TSA Locks.
Removable business organizer.
Weight 5 lbs.
Find more out about our briefcases here.
16″ 17″ Business Backpacks/ Small Carry-on Bags
Built-in padded sleeve to hold a laptop or tablet
Wall organization panel holds writing instruments and small digital devices
Large zipper section for small essentials
Removable padded sleeve for a laptop
15-inch laptop case will fit.
Over-the-handle strap for hands-free carrying on an upright suitcase
The larger pack adds a packing cube for an overnight clothing change
Find more out about our business backpacks here.
17″ Wheeld Business Case & 17″ Deluxe Buinsse Case
4 spinner wheels
15-inch laptop
Opens vertical for ease
4 removable dividers and a top pocket for small items
Perfect for wheeling items back and to the office.
Remove the dividers for a small carry-on
20″ Vertical Business Carry-On
This case will fit a 15-inch laptop, not because of the height but of the width.
Built-in zippers and sleeve for laptop
4 wheels
TSA lock
Removable divided.
This item is a carry-on business case to give you a few days of clothing with your business essential items.
Find out more about these vertical carry-on business cases here.
Conclusion
So there you have it, all the different cases that we have to offer. They are all very versatile, lightweight, and offer plenty of space for your MacBook or other laptops. Whether you need something for traveling or need a bag to take the gear with you to the gym, we are here to help you out. We do not have a vast number of cases, but what we do have, we pride ourselves on. Our cases are made to last for a lifetime, and we want to be sure that you are happy with your purchase. We are here to be your best resource for laptop luggage. If you have any questions or would like to chat with us, please do not hesitate to contact us by email at info@aleoncase.com.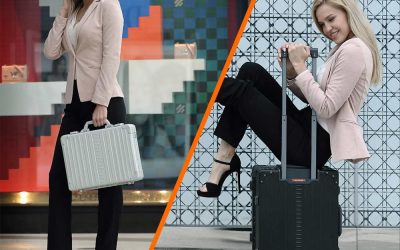 Traveling for business can be both exciting and daunting for any professional. From organizing long flights to double-checking the company presentation, much thought needs to go into planning ahead. One important decision that should not be overlooked is choosing...