If you're preparing to board a plane and head off on your next great adventure, you're far from alone. About 2.9 million passengers fly in and out of American airports each day. So whether you travel for business or pleasure, you're in great company.
To have the best possible travel experience, you must look into stylish and luxurious men's luggage sets. Here, we're going to talk about the briefcases, carry-on suitcases, checked bags, and equipment cases that you can pair together to construct the perfect set. Read on to ensure that your next journey is comfortable and smooth-moving! 
Briefcases
The first aspect of a good luggage set is a briefcase. Hardshell luggage sets, including laptop cases, protect your valuable and breakable technology.
In contrast with soft fabric cases, the hard briefcase protects your laptop if someone else sets their luggage on top of it. You also can rest assured that it won't break when you go through the chaos of airport security.
Portable Cases
Classic briefcases can be held in your hand and carried on the plane as a personal item. Many people like these because they're professional-looking and easy to bring to business functions. If you're traveling for work, a handheld hard shell briefcase is a must-have.
You can choose the size of your briefcase to correspond with the size of your laptop. For example, a 15″ case is perfect for those who have smaller screens.
If you have a large tablet and an attachable keyboard, this is the right choice for you. The same applies to those with sleek, modern, compact machines such as LGs and small Dell or Mac computers. Make sure that you measure your screen before purchasing a 15″ briefcase- you don't want to get something too small.
We also offer 17″ briefcases for larger laptops. If you have a larger screen or a bulkier machine with lots of storage, you may like this option. It's large enough to hold your laptop and give you space to strap it down securely so it doesn't jostle around mid-flight.
17″ briefcases also work with small laptop holders who want to keep other things in their briefcase. You can store pencils, pens, notepads, USB drives, and more in the extra space so that you have them handy.
Wheel-On Briefcases
Wheeled briefcases are a great choice who want to bring another personal item in addition to this carry-on luggage. They also are great for those who want to keep their hands free when roaming the airport.
We offer a 16″ hard-shell wheeled briefcase. It's vertical and rectangular, making it the perfect option for those who want to include many items within the briefcase. The shape and size are comparable to a handheld laptop case.
You can also choose between our classic 17″ square business case and the deluxe 17″ alternative. Both are made from high-quality materials and have an over-the-handle strap for easy transportation. However, the premier option is slightly larger and can accommodate personal items such as business clothes and a book or two.
You also will need a wheeled business carry-on if you have a laptop larger than 17″ will hold. 20″ vertical wheeled briefcases are the largest of their variety that we offer.
They're perfect for storing all business-related items and are professional in their appearance. While it can't fit under your seat, the vertical shape fits perfectly into the overhead compartments of an airplane.
Carry-On Luggage
Whether you choose a handheld briefcase that can fit under your seat or a larger one that needs to go in the overhead compartment, you'll need a carry-on case to complement it.
When assembling your luggage set, make sure that you get one of these two items in such a size that it will fit under the seat. This ensures that you can bring both suitcases on the plane with you and avoid unnecessary checking fees.
Underseat vs. Overhead Carry-Ons
If you choose a briefcase that's too large to fit under your seat, you'll need a smaller carry-on to make the most of your space. This means our 16″ vertical underseat carry-on is a great option.
It has many padded zipper compartments to keep your personal effects safe while flying. It also opens vertically to be easily accessible while on the plane, making it perfect for carrying a laptop or book to read when flying.
If you need a larger carry-on for a more extended trip, consider a 20″ or 21″ vertical carry-on. These are ideal for international business trips that require you to carry more on the plane. You can store all of the tools you'll need for work in these bags to make the most of the time you spend flying.
Checked Baggage
Like all of our products, our checked luggage cases are made from the highest-quality materials and methods possible. Some of the most appealing features include:
Aircraft-grade aluminum shell

High-density dual wheels

Boards for interior compression packaging

Corners that are double-reinforced with aircraft-grade aluminum

Two TSA resettable lock combinations to keep thieves at bay

Telescoping handle with multi-stage locks
Selecting a checked case with these features reduces the chance of accidents happening in cargo. The TSA and luggage-loaders are notorious for being less than gentle with checked bags, so unbreakable metal like that used in the military is essential for keeping items safe.
Domestic Travel Checked Bags
If you're traveling domestically, you can get away with a smaller Macro checked bag. These are around 30″ and come with compression boards to keep your items safe while in the cargo area. There are also some smaller options that come in 26″ if your trip will be of a shorter duration.
Both sizes of domestic checked bags come in suiter options as well as traditional ones. These suiters are smaller hard-body cases that you can put suits inside and/or use as briefcases. If you're assembling a complete luggage set, this is a great way to save money on purchasing a separate briefcase that you can bring to meetings.
International Level Checked Bags
We also pride ourselves on offering the most durable possible case for international travelers. If you're going to be away from home for a while, a 30″ trunk-style case is a great way to hold everything you'll need for multiple nights in a hotel.
This case is shaped to hold bulkier items and clothing to last you a whole week or more. You can't go wrong with this case if you plan to be away from home for long-term business trips.
Equipment Cases
Some travelers require equipment cases when traveling for work or pleasure. These cases come in many different shapes and sizes to hold equipment of multiple types.
Vertical-opening cases are perfect for those who want to secure machinery. If you have a large computer or prototype for a new product, you'll want to keep it here. These are perfect for those who want their items readily accessible at business conventions or meetings.
Large attached style cases provide the same handheld style as traditional briefcases. However, they're a bit larger and can hold professional equipment. These are perfect for those who have smaller items and want to carry them into a professional space by hand.
We also offer long cases for those who have rifles that they need to check. If you plan to go on a hunting trip or are hitting a shooting range later, this is the way to go.
These cases also can hold fold-up tables if you're headed to a trade show booth. Band instruments are also portable in these if you're headed somewhere that you'll need to make some music. So they're pretty versatile cases.
Assembling Your Luggage Set With Equipment Cases
When assembling your set, make sure that you match the colors of the hard-shell cases you're purchasing. Equipment cases only come in silver, so if you need to use one of them you may want to get other traditional silver aluminum luggage cases.
However, if you don't, that's also okay. Just make sure that you match all items besides the equipment case. We offer onyx, bronze, sapphire, and ruby options for most of our luggage, so select the color that best suits your professional persona and personal tastes.
Shop for Top-Notch Men's Luggage Sets Today
Now that you know how to travel in style, it's time to begin shopping for men's designer luggage sets that will get you ready for adventure.
Browse our luggage sets clearance items to see the suitcases we currently have on sale. If you see something you like, don't hesitate to order now and take advantage of the discounted price.
If you don't see something for you, we also have many other high-quality men's luggage sets in other areas of the store. We look forward to helping you make your next journey a comfortable one!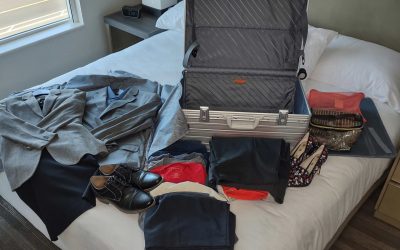 Who says traveling in a suit has to be dull and boring? With the right kind of case, you can do more than just look the part - it can also add fun, practicality and comfort your travel experience. Enter The 2 Suiter: designed with the busy businessman in mind this...