If you're a regular traveler, it's important to find a travel bag that will suit all your needs. Whether you're looking for a carry-on or a larger bag for your trip, there are many different decisions to make. We carry aluminum luggage with wheels which can be the perfect solution for your travel needs.
With these lightweight bags, you won't have any trouble carrying around your luggage, and they come in many different sizes so that you can find the perfect one for your trip. Find out how this lightweight luggage is perfect for any traveler by reading on.
Aluminum 16 Inch Carry-On Luggage With Wheels
While you may have seen this type of luggage before, they are very versatile and can be used for many purposes. You can use them for beach, camping, or even as a carry-on. However, if you want something suitable for air travel, this is the right option for you.
These are usually small and lightweight, so you can easily take them onto the plane with you. They can be used as a carry-on or checked-in baggage. They also have wheels so that you can easily transport the luggage when you get to your destination.
Whether you are looking for a small bag for your trip or something with a bigger capacity, you'll be sure to find it in this set of luggage. Who Will Use This Set of Luggage With Wheels? The wheels on these bags are an excellent thing to have.
What Is It?
This bag is called the 16″ Under Seat Carry-on. It comes in four wheels with plenty of color options, but these bags are ideal for any person looking for the best for their bag. These bags are lightweight and offer some extra space for all of your essentials.
These bags are made with strong aluminum that is strong enough to stand up to the weight you can bring with you on your trip.
With these bags, you can bring all your belongings with you from your flight to your hotel room, and if you remove the business traveler dividers, you will have extra space. If you're looking for a bag that can handle a lot of weight, these bags offer a built-in handle which is nice if you're on a long flight.
What is an underseat carry-on?
One of the biggest mistakes that I've seen for years is the inability of people to secure their carry-on bags underneath their seats.
This is a problem that has existed since the first airplane was invented. It seems like people just haven't been educated on how to secure their bags, but all of that will change this year. We are now seeing plenty of innovations, like this underseat carry-on, allowing you to utilize your carry-on while properly keeping it under your seat.
If you need to put your laptop in a bag in front of you, slide it underneath your seat to maximize your seat space.
Perfect For Airline Travel
With airlines introducing stricter security protocols, they are placing pressure on passengers to be more mindful of what they are bringing on board their flights. This means taking out anything that could be considered a security threat, such as liquids and gels. It would be best if you were sure that your bag doesn't contain anything that could be tampered with or potentially dangerous, so there is a need for straightforward bags to clean and separate.
We are very much aware that it's just as easy to go home empty-handed for many, so we have created this easy-to-clean aluminum luggage so you won't be tempted to keep your valuables. All of our bags are guaranteed to come without any signs of wear and tear, which means you will be able to carry on with your trip confident in your luggage.
Why is aluminum better than non-aluminum?
Aluminum is an excellent metal alloy that offers superior strength and a non-porous surface. The metallic-type finish has a strong metal-to-metal clashing ability, and its properties make it extra resistant to scratches and harsh abrasions.
Thus, if you travel with your devices a lot and get damaged, you won't be bothered with the cost and time to fix it. Aluminum is more durable than soft case materials, which have soft and flexible elements and come with a great price tag. Aleon Aluminum cases are reasonably priced at about half the cost of all other aluminum luggage companies.
What are the benefits of an underseat carry-on luggage?
This all-purpose travel case is a superior choice if you are traveling from a distant place to a much closer destination or from a remote location to a bustling metropolitan center. The inner case can be used as a hostel or shared luggage to store small personal items or replace the oversized clothes suitcase. Moreover, it is extremely compact, so you can easily transport and store it under your seat during your flight.
The Reinforced Double Butted Aluminum is lightweight, durable, resilient, and fingerprint-resistant. In addition, it's extremely compact, so you can carry it onboard your flight without paying any additional fees for checked baggage. The Aluminum case has wheels for easy and safe travel.
If you choose to go with ALEON's 16″ wheeled underseat luggage, these are the benefits.
The 16″ Vertical Underseat Carry-On is the perfect carry-on for taller travelers. With roomy interior dimensions and an exterior that feels light as a feather, this bag will have you covered for any adventure, big or small. The sleek and modern design makes it easy to slide into any overhead bin compartments or fit under the seat in front of you so you can get where you're going without worrying about being one of those people who always have to gate-check their bag.
Our 16" Vertical Underseat Carry-On is the perfect companion for any traveler.
Made with aircraft-grade aluminum, this carry-on weighs just 9 pounds and offers an incredible level of durability. a 4 spinner wheels
The interior includes a double-reinforced aluminum corner that adds strength and durability to the bag while also keeping it lightweight.
A removable business organizer provides the perfect place to store your electronics or other personal items without sacrificing traveling space. It will fit a small laptop.
The zippered compartments offer protection from potential spills or leaks, while the high-density dual wheels make rolling this bag in busy airports a breeze!
Water-resistant with a 10-year warranty that replaces everything.
Available in 5 great colors: platinum, sapphire, onyx, ruby, and black.
Why This Is The Best Option
First off, you should know that aluminum luggage has many benefits when it comes to being a travel bag.
1. It's Lightweight With aluminum, you're getting a lightweight and durable travel bag that will be able to handle the demands of travel easily.
2. No More Roller Sets Don't waste your money buying a set of roller luggage. Instead, you can buy one lightweight luggage set, which you can use to transport your bag wherever you go.
3. Compact In the past, you've probably purchased travel bags with wheels to bring them around with you. This makes your luggage larger, which is not always convenient. With aluminum luggage, you're able to bring the weight of the bag down and keep it to a small size
Conclusion
Whether you're planning a road trip or a flight, you want to make sure that you're traveling as efficiently and comfortably as possible. Whether you need a carry-on bag for short flights or a large suitcase to take on long trips, aluminum luggage is an excellent choice. With this bag, you won't have any trouble getting your luggage from the airport to your hotel or plane.
Not only that, but you can also bring it through security at the airport. Overall, aluminum luggage is a practical choice for travelers. Whether you're on a short trip or a long flight, you're able to carry your luggage with ease. These bags are lightweight, easy to maneuver, and of course, strong.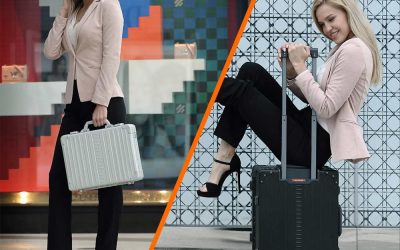 Traveling for business can be both exciting and daunting for any professional. From organizing long flights to double-checking the company presentation, much thought needs to go into planning ahead. One important decision that should not be overlooked is choosing...