Did you know that in the United States, when an airline damages your luggage, the U.S. Department of Transportation requires passenger compensation? A damaged or lost suitcase can cause stress and aggravation. And the claim process can often be time-consuming and unfruitful.
So, how can you keep your belongings safe, secure, and avoid this hassle? First, invest in black hard-sided luggage. Besides the safety benefits, hard-sided luggage is chic and versatile.
When weighing the pros and cons of hard shell vs. soft shell luggage, the benefits are clear. Hard-sided luggage offers increased durability, versatility, and much more.
Do you have a business trip or getaway planned? Then, read on to discover the top five luggage benefits you need to know.
What Is Hard-Sided Luggage?
As the namesake suggests, hard-sided luggage uses high-tech materials like polycarbonate shells or aluminum. These durable materials help create the hard surface or shell of luggage. Oppositely, soft-sided luggage uses a variety of pliable materials like nylon or canvas.
Soft-sided bags typically have a version of a shell. But, they are not as structured or made to brace high impact like hard-sided luggage.
Choose Timeless Design Built To Last
Not all hard-sided luggage is the same. If you want luggage to last, you need to invest in quality. ALEON luggage centers around functionality, durability, style, and security.
They partner with an aluminum fabricator who has been shaping the material into quality luggage for more than 20 years. This aluminum is aircraft quality and engineered for strength. To learn more about aluminum and luggage benefits, check out our "about us" post.
Ready to learn more about hard-sided luggage benefits? Let's dive in!
Long-term Durability
Do you own soft-side or fabric luggage? Then you know the struggle. Soft-side luggage is more prone to staining, ripping, and broken zippers than durable hard-side luggage.
For example, with black hardshell cabin luggage, you won't have to worry about ripping your bag or harming your luggage contents when shoving and pulling in the overhead bin. Hard-sided luggage can give you this peace of mind when traveling because these bags use durable materials.
ALEON luggage is for the long haul. The aluminum case bags are made with the highest quality materials and finishes.
Less Waste
Stop buying inexpensive and low-quality bags trip after trip. This only leads to waste in your wallet and landfills.
You may think an inexpensive suitcase is a steal. But, when the wheels fall off mid-flight or the low-quality zipper bursts open on the luggage belt, you may think otherwise. Instead, when you purchase an ALEON quality bag, you're making a more intelligent buying decision that cuts down excess purchasing and waste.
An Investment Piece
When you think of your wardrobe, the concept of investment pieces comes to mind. Apply that same principle to your luggage pieces! For example, a black carry-on suitcase can be the ultimate travel piece you will ever need.
Use black carry-ons for an important business meeting, vacation getaway, or as an office trolley to tote files, computers, or other materials. Check out these traditional carry-ons for inspiration.
Chic and Practical Color
Why black? Of course, when it comes to luggage, there are many colors to choose from. But black is one of the chicest and versatile shades.
Known to hide dirt, scuff marks, or stains, your black luggage will look brand new for years to come. Black hardshell carry-on luggage is the ultimate airport accessory. Look important and influential while transiting in the airport.
And, never have to worry about matching your black luggage to your suit or outfit. The shade is the ultimate pairing for just about any look. And black signal strength and power.
Stand Out
Have you heard the myth black suitcases are hard to spot on the luggage belt? With your ALEON luggage in tow, you will undoubtedly disagree. The hardshell has an exciting and eye-catching design crafted from aluminum.
So even in black, you'll notice those groves from behind the luggage belt. And, the side strap and extendable handle are great places to personalize. Try adding your chic luggage tag, ribbon, or another accessory of your choice.
Safe and Secure
When traveling, safety and security should be at the forefront of your itinerary. This begins with your luggage. Keeping your belongings safe and secure is vital to enjoying your trip and arriving at your destination.
After all, missing or broken luggage can cause long-term travel consequences. For example, stolen goods or documents could impact your trip itinerary and add unforeseen expenses and time. To avoid this hassle and invest in hard-sided luggage.
Lock It Up
If you lock your bag, you will need to have a suitcase that is TSA-compliant. This compliancy allows Transporation Security Administration (TSA) officers access to your bag through checkpoints or security systems. If your bag is not compliant, officers may have the right to break the lock or damage your bag.
Choose luggage like the Macro Traveler Checked. This luggage features two TSA resettable combination locks. So, you can rest assured your belongings are safe.  With a water-resistant seal, your luggage will be protected from the elements in transportation.
Double-Reinforced Design
The most secure hard-sided suitcases will take into account impact and wear and tear. That's why ALEON uses a double-reinforced design. The aluminum corners help offset a heavy luggage load and maintain the shape of the bag.
Airlines are notorious for luggage breakage or damages. A soft-sided bag corner could easily catch in a car trunk or luggage cart. With a streamlined, hard surface and smooth corners, your hard-sided suitcase stands up to these challenging moments.
Sleek and Low Key
Designer suitcases or bags with logos can be chic and stylish. But, these bags can also catch the attention of thieves in airports. On the other hand, ALEON's black hard shell cabin luggage screams understated chic.
You won't have the sacrifice a sleek design for practicality. Your bag can blissfully fly under the radar at the airport or on the luggage belt. This makes it a safer investment choice.
Smarter Packing
You may think soft-side luggage gives more interior space and room for packing. Conversely, hard-sided luggage can look constricting and smaller in terms of interior packing capabilities. But, this isn't true! Hard-sided suitcases feature deep interior spaces.
That's because the exterior hard case shell is designed to curve and create optimal interior space. For example, ALEON luggage uses advanced compression packing technology.
Interior compression packing boards allow you to pile in your belongings and efficiently close your suitcase. This compression system optimizes space and weight. Taking the pressure off of the locks but keeping all your clothing/suits in place and neat.
Most of Aleon's business bags come with garments bags for men's clothing or women's clothing, along with the compression boards. The Larger suiter luggage will come with those and a laundry bag.
Dual-Sides
Traditional luggage typically has one exterior zipper. Therefore, upon opening the luggage, you will usually only find one side to can pack belongings. At the same time, the flap or zippered opening side may have a pocket or packing strap.
That flap wastes precious space! With hard-sided luggage, you can take advantage of dual-sided packing.
For example, when you open a hard-sided carry-on bag, there are two packing areas to fill. As a result, you can separate your items and not miss out on an inch of valuable packing space.
Interior Pockets
Hard-sided suitcase chic and sleep design eliminate the need for outside pockets. Instead, keep your belongings secure and safe with interior pockets. For example, these ALEON black suitcase carry-ons have two spacious interior pockets to store your essential items.
Advanced Features
It's time your luggage arrived in the modern era. Enough with those clumsy two-wheel suitcases. And, who wants soft-sided luggage in dull colors that lack modern flair?
Hardsided suitcases transport you to modern times, and the features will surprise and delight you. ALEON hard-sided suitcases feature plenty of advanced technologies that speak to the quality and design of each piece. Here are some examples you can expect in your next luggage purchase:
Aircraft-grade aluminum 
High-density double quad dual spinner wheels 
Multi-stage locking telescope handle 
Spacious interior and exterior dimensions 
Do you have more questions about these features? Check out the ALEON FAQ page.
Aleon's Carry on Sizes
Black Checked Bag Sizes
Customer Service
Buying quality hard-sided luggage is a big investment. So besides the features of the actual purchase, you'll want to see this quality service extended to customer relations.
That's why ALEON has a worry-free 10-year warranty that can cover the repair of your case. This is helpful in the unlikely case of a workmanship or production defect. Most other luggage companies offer a lifetime warranty that will only cover manufacturing defects.
Meaning if you damage your luggage, it's your fault. With Aleon warranty, you are cover for 10 years. Meaning you break a lock, handle, or the spinner wheels, ALEON will take care of you.
Or, in the case, your luggage becomes damaged in any other way. To protect your investment and fix your luggage, you can submit a request form for repair.
Go for Chic Style and Durability with Black Hard-Sided Luggage
Do you recognize the benefits of black hard-sided luggage? Are you ready to travel in style without sacrificing the safety or security of your belongings? Remember that quality hard-sided luggage involves the most durable materials like aluminum.
These luggage features like TSA-approved locks and durable corners make them stand up to travel wear and tear. So if you're an over-packer or don't want to leave home without your essentials, don't worry.
Hard-sided pieces like ALEON cases can accommodate all of your necessities. So if you're preparing for your next business meeting or getaway, contact ALEON and invest in luggage that is built to last.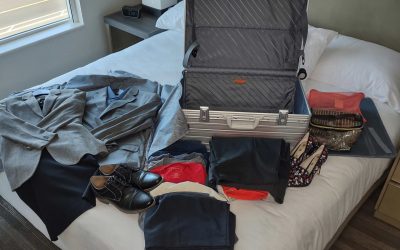 Who says traveling in a suit has to be dull and boring? With the right kind of case, you can do more than just look the part - it can also add fun, practicality and comfort your travel experience. Enter The 2 Suiter: designed with the busy businessman in mind this...