With offices reopening after the pandemic, many employees will be working in person two or three times each week.
Pre-pandemic, most of us left our laptops at work every night, so hauling a laptop back and forth wasn't something we had to worry about. However, now we must make sure that we transport our laptops safely from home to work each and every day!
Are you searching for the best backpacks with a laptop compartment? If so, you've come to the right place. Here, we're sharing only the top laptop bags on the market right now.
Aleon 16″ Aluminum Backpack
Function meets stylish with the Aleon aluminum backpack. 
The cool aluminum shell protects your laptop while ensuring security. This backpack comfortably holds a 13″ laptop with padded sleeves for extra safety. The insulation and organization compartments are perfect for storing away other electronic devices and lugging them around easily.
It comes with a laptop cushioned sleeve that may be removed. It's also great for hands-free carrying on an upright suitcase with an over-the-handle strap. 
Aleon 17″ Aluminum Backpack
Just like our 16″ aluminum backpack, this larger option is the ideal laptop backpack.
It comfortably fits a 15-inch laptop computer and is integrated with a cushioned sleeve for any type of electronic device.
Writing implements and tiny digital gadgets may also be stored on a wall organizing panel. The large zippered compartment for small items allows you to keep track of smaller objects like chargers, batteries, chapstick, or whatever else you may need on the go. Additionally, the laptop cushioned sleeve may be removed.
This backpack allows hands-free carrying with an over-the-handle strap.
It also contains a packing cube for overnight clothes changes if needed!
eBags Pro Slim Laptop Backpack
The aforementioned backpacks are ideally the best choice. However, we did want to mention some runner-ups like the eBags Pro Slim.
Featuring a separate laptop bag for a 15-inch laptop, several compartments for chargers and other equipment, and a bigger main area for clothing, this backpack does it all. 
Another favorite feature is its padded bottom, which is a must for laptop protection.
In terms of travel, the eBags Pro offers an easy-access compartment that allows you to bring your laptop out without searching through your bag, a side zip pocket for your water bottle or umbrella, and a fleece-lined tablet sleeve for extra protection. There are several color options.
Tom Bihn Synik 30
Do you prefer a more classic style?
With this backpack, you may select how you want to access your technology when it comes to laptop storage. Pick up your laptop by unzipping the main compartment like a conventional backpack, or unzip the designated side zipper for easy access from the outside.
It's especially beneficial if you fly regularly because you can simply access your laptop for TSA inspections and make use of its abundant internal organizing.
The Synik is available in two sizes, 22 and 30: The 22 is smaller and better suited for 13-inch computers, but the 30 can accommodate laptops up to 16 inches in size.
This bag has many of the functions you'd want and expect from a laptop bag if you travel regularly.
Dagne Dover Dakota Neoprene Backpack
The Dagne Dover lacks a designated laptop pocket, but it does contain a mesh sleeve that can be locked with a Velcro strap so it doesn't move around.
This backpack is great for dragging everything back and forth. It contains everything you would need for carrying your laptop plus other things like snacks and chargers.
It features two exterior-mounted pockets, a key chain, and smaller zipped compartments within the main internal pocket for holding your lunch, headphones, snacks, and wallet.
Aer Fit Pack 3
The Aer Fit Pack is ideal for folks who want to go straight to the gym after work since it is precisely built to protect your gadgets while also being large enough to carry your training gear.
It boasts two built-in sleeves — one for your laptop and another for a tablet or notepad — plus a distinctive central zip for quick access to your exercise gear. The section for exercise clothing and shoes is fully distinct, so you can keep them without worrying about sweat or filth getting on anything else in your bag.
The materials are quite robust, and it has cushioned back and shoulder straps for increased comfort for commuters, as well as lots of interior organization to keep little items secure.
D'Addario Backline Gear Transport Pack
If you need to safeguard more than a laptop, this high-capacity backpack is an ideal choice
It's great for transporting a lot of stuff. It has enough cushioning and capacity for everything you would need to transport to and from work. It boasts a water-resistant construction. It also has two cushioned pockets for laptops and tablets, and slots for any cords, cables, or big accessories.
Considering all that goes inside the backpack, it's rather comfortable, thanks to the cushioned shoulder straps and back.
Eastpak Tecum L Backpack
The Eastpak Tecum L feels like a breeze to carry with a designated compartment that fits a 13-inch laptop comfortably.
A second, smaller, cushioned section can carry a tablet while the remainder of the bag has plenty of room and pockets for overnight items.
The backpack can also survive rain because it is composed of nylon. For enhanced comfort, the shoulders and back are cushioned.
These Are the Best Backpacks With a Laptop Compartment
Choosing a backpack with a laptop sleeve may be daunting, particularly for first-time buyers. But now that you're aware of the best backpacks with a laptop compartment, you can look forward to purchasing one and ensuring that your electronics are safe and sound during transit.
Shop our collection of backpacks at the link to find the perfect laptop bag that will fit your on-the-go lifestyle.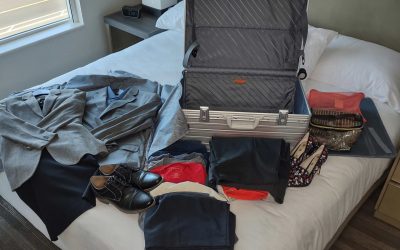 Who says traveling in a suit has to be dull and boring? With the right kind of case, you can do more than just look the part - it can also add fun, practicality and comfort your travel experience. Enter The 2 Suiter: designed with the busy businessman in mind this...