You're packing your bags for yet another business trip: Are you taking everything you might need, or are you weighing what to leave behind?
After all, you can't stuff your bags with all the necessary work equipment as well as all your favorite personal gadgets, right? That would be too much to lug from your house into your Uber, then through an airport and onto a plane, then into another Uber and finally to your hotel… Right?
Wrong!
If even just the thought of carrying your briefcase through airports and into conference rooms exhausts you, you need a rolling briefcase as part of your luggage. Briefcases on wheels are a new trend, but they're gaining ground in terms of popularity with busy professionals like yourself. Read on to find out why, in this case, it's more than ok to join the band wagon.
Versatility
Let's face it: Quality briefcases aren't cheap. You pay for the quality craftsmanship, the sleek, stylish design, and the ability to maximize portability. Why not factor versatility into the price as well, then? One of the many benefits of a briefcase on wheels is that no matter which one you choose, you're opting for versatility. 
Home Use
Most of 2020 saw a global shift toward remote work. Now, as the world returns to some semblance of post-pandemic normalcy, working from home is here to stay. A recent survey shows that by the end of 2021, one in four Americans will be working from home at least part of the workweek.
A rolling briefcase is the perfect companion for a hybrid remote worker. If you work from home part of the workweek, you can use your briefcase on wheels as your main storage space for everything work-related. Your laptop and tablet can live in there when not on a charger, your cables, hard drives, and paperwork can be organized in separate compartments until you need them either at your home office or at your workplace.
Once you organize your home office briefcase, you can keep all your essentials on hand and wheel them around as needed. On the days you work from home, your briefcase can stay in your office. The night before you go back to work, you can wheel it toward your front door so there's no chance that you'll forget any of your tools.
On the Road
Did you know that American businesspeople take more than 405 million work-related long distance trips in a single year?
If you travel for work, a rolling briefcase is a must for you.
Envision yourself at an airport: You already have a small suitcase, a full carry-on, and your briefcase can't be stowed in either piece of luggage. It's simply too big, and you need to use your computer to shoot off some quick work emails during your flight anyway.
So you're left with no choice but to carry your briefcase as you lug your carry-on. You're only one person, and your two hands are limited in their capacity to maneuver all the things you need to carry.
Now envision traveling with the same luggage setup, except your briefcase is on wheels. It's a game changer. You can pull your briefcase behind you as you sling your carry-on over your shoulder and push your suitcase in a luggage cart in front of you. You're packed to the brim, but you can handle your luggage so much more effectively if you don't have to carry it all in your hands.
Also, if you want to check your briefcase in as stow-away luggage, you can easily do so if you choose an aluminum rolling briefcase. A hard-body case like thatcan withstand being handled by TSA, and it's small yet substantial design makes it look more like a mini suitcase than a traditional briefcase. It even comes with a TSA-approved lock and a tight seamless rubberized seal so you can check your case and have peace of mind that your valuables stay safely packed.
Functionality
Traditional briefcases look great and serve their purpose. But can they stretch the extra mile in terms of usefulness and functionality?
A rolling briefcase can be so much more than just a sophisticated form of protection for your computer and paperwork.
Can Be a Multipurpose Cary-On
Are you tired of packing multiple bags for your business trips?
Who needs a bulky carry-on in addition to a briefcase for a weekend business trip?
Choosing a wheeled briefcase allows you the potential of only taking one rugged piece of luggage while you travel for business from now on. For example, this compact aluminum briefcase gives you room to pack some overnight essentials in the main compartment. The removable organizer pack can safely hold your small laptop and other electronics apart from anything else you need to bring.
Can Facilitate Better Travel
Why struggle with a traditional heavy briefcase in hand when you can casually pull your briefcase behind you wherever you go?
Whether you're navigating an airport or you're visiting a metropolitan shopping center on a business trip to a new city, you don't have to carry a cumbersome attache.
The best rolling briefcases come with sturdy high-density double-quad wheels that make it easy to smoothly maneuver in the tightest of spaces. Their ergonomic telescoping handles allow you to pull the briefcase at a comfortable angle instead of switching it from hand to hand as you go about your business.
Briefcases On Wheels Promote Better Health
Briefcases are small in nature; are you wondering why they'd need to feature wheels in the first place?
Rolling briefcases don't exist just for their aesthetic or their "wow factor." They're not just convenient; they're also an asset to your health.
Prevents Muscle Strain
Ongoing research shows that carrying a heavy bag on one side of your body consistently can strain and weaken your muscles. It can even disturb your body's balance system.
Why risk straining the tendons in your shoulders or the crook of your arm by carrying multiple bags and a briefcase in hand when you can wheel your briefcase around? Maneuvering a small piece of luggage that features double quad wheels is easy on your wrists, a factor that also prevents muscular pain and does not exacerbate tension in your arms and hands.
Beneficial for a Bad Back
Did you know that approximately 65 million American adults suffer from chronic back pain?
If you're part of that statistic, that's all the more reason to opt for a wheeled briefcase.
People tend to ignore their chronically bad backs. They figure that the occasional heavy bag is not enough of a burden to cause more serious damage to their back.
However, correlating medical reports show that up to 80 percent of Americans who struggle with chronic back pain carried heavy, ill-fitted backpacks as children. This suggests that the heavy bags may be the cause of the back pain in the first place.
Briefcases on wheels not only help you take a load off your back, but they also promote better posture and flexibility. Their telescoping handles can adjust to any height, so that you don't have to bend backwards or stoop forward in order to pull your briefcase behind you.
Accessibility
It's a pleasant surprise when convenient and innovative products make life easier for people in ways that weren't originally anticipated. Rolling briefcases aren't just convenient for travel and a healthy option for your lifestyle; they are also ideal to people with disabilities.
Briefcases on wheels are more accessible to people with disabilities both during travel and in the office. This is especially true when a disability prohibits a person from being able to carry heavy items or when they need to have their hands free to maneuver adaptive aids.
Beneficial for People Who Are Blind
Rolling briefcases are especially great for people with visual impairments. Whether you're totally blind or you have some degree of vision below what is considered normal, you can easily use this type of briefcase in conjunction with a mobility aid. Instead of carrying a heavy briefcase in one arm and trying to navigate an airport with a service dog or a cane, you can pull your briefcase behind you, allowing for more flexibility with your free hand.
Since rolling briefcases are more roomy than traditional briefcases, they are a great option for someone who needs to travel with adaptive tech such as Braille displays, adaptive laptops, and Braille books. Not only are Braille electronics heavier than typical tablets and computers, but they're also bulkier, making a larger briefcase necessary.
Buying a New Briefcase
Are you ready to make traveling for business less of a hassle?
Are you ready to give your back and shoulders a break?
If so, it's time to browse our best briefcases on wheels and pick one that's right for you. From small rolling carry-ons that open vertically to larger aluminum briefcases, we have you covered. subscribe to our newsletter for coupons and shout outs, and make your first purchase today.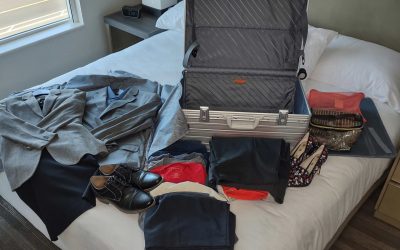 Who says traveling in a suit has to be dull and boring? With the right kind of case, you can do more than just look the part - it can also add fun, practicality and comfort your travel experience. Enter The 2 Suiter: designed with the busy businessman in mind this...