International travel is back, with over 250 million international arrivals recorded in the first five months of 2022. So, how can you ensure your trip goes to plan? A vital consideration is your luggage choice, which can make or break your trip.
Dragging a suitcase through cobbled streets or having to carry a bag through a city can send shudders down anyone's spine. And nobody wants to be greeted by a broken suitcase at baggage claim or find they do not have space for souvenirs. If you want to avoid ending up with luggage that comes with extra baggage, you need to know how to pack luggage for international travel.
Read on for everything you need to know for how to pick the best new luggage for your trip.
Types of Luggage
Deciding what type of luggage you need will help you find the best option for your traveling plans. There are different types of luggage that are suitable for international travel. Each option has positives and negatives, which can help you narrow down your search options.
Carry-on Luggage
Carry-on luggage meets the requirements for you to be able to take it on the plane. You usually store it in the overhead compartment or under the airplane seat in front of you. Carry-on luggage has to meet certain requirements, but there are still many options to choose from, such as backpacks, suitcases, and duffel bags.
Positives of carry-on luggage:
Less risk of lost luggage
Faster airport experiences
Instant access to stuff
It helps you pack lightweight
You keep carry-on luggage with you, which can give you peace of mind and convenience. However, it also means you have to take it everywhere with you during travel, so you should still be mindful about the type of carry-on you take, especially if it is full.
You also need to check airline restrictions, as you might not be able to pack certain items in a carry-on. The size limitations can help you be a lightweight traveler.
Suitcase
A suitcase can come in all types of sizes. It offers benefits such as:
Flexibility
Convenience and safety
Organized packing
Different options
You can pick a style of suitcase that suits your trip, such as a stylish and minimal suitcase that looks professional for a business trip, or you may want a durable case that will protect your belongings.
Many suitcases come with different sections to help organize your packing too. Suitcases also are easy to transport when traveling to your international travel destination, with many having four wheels and different handle options so you can choose how best to carry them.
However, there are times when a suitcase may be inconvenient for your travels, and you may prefer a more specialized option.
Other Luggage Types
You can also choose other types of luggage, such as briefcases or rolling briefcases. Some people find backpacks more convenient as the best lightweight luggage for international travel. You can also find different types of equipment cases for added security.
Tips for Choosing Luggage
If you get stressed out when packing, you are not alone. Around 70% of Americans find packing stressful, with around a third waiting until 24 hours before their trip to pack. However, if you find the right suitcase, you are likely to find the packing experience easier.
When choosing the best luggage for international travel, you can consider these tips to help you with your decision:
Consider the mode of transport
Baggage size
Travel plans
Luggage features
Material
Test the case
How are you getting to your international destination? When choosing between the different types of luggage options, you want to consider how to pack luggage for international travel. Consider what the most convenient option for your travels and mode of transport is.
For example, a carry-on may be a convenient option if you are moving around during your trip, or a rolling briefcase may be appropriate for attending different work functions. However, a backpack is useful if you plan on doing many different activities.
Pick a luggage size that is physically manageable, gives you enough space, but also does not encourage you to overpack. You can also consider the weight of the case itself, which will have an impact on what you can pack. Luggage materials such as aluminum can prevent stains and keep the luggage lightweight.
Also, look at any luggage features, such as laptop spaces or packing aids, that can help protect items and improve packing organization. Check the company's warranty for returning luggage and check the luggage is suitable before you fly.
The Best Luggage for International Travel
While there will be some individual differences when it comes to picking the best luggage for international travel, knowing the best luggage options for international travel can help you with your search.
Consider this carry-on with a shirt and pant packer for ultimate organization. It is the best lightweight luggage for international travel.
It is aircraft-grade aluminum and includes features such as a packing compression board and TSA combination locks. Or, you could pick this same design as a suitcase, with a variety of sizes on offer.
If you would like a backpack, you can also consider an aluminum backpack for travel. For example, our aluminum backpacks come with removable padded sleeves for laptops and offer wall panel holds to stay organized. There are different handle options to make transportation as simple as possible.
How To Pack Luggage for International Travel
Knowing how to pack luggage for international travel will ensure your traveling plans run smoothly, and you can focus on enjoying your trip. Organize your belongings and use items such as compression bags to help utilize packing space. Picking the best luggage for international travel will help with this and ensure you pack efficiently to make the most of your trip.
At Aleon, we understand your international travel needs. Our luggage range is designed for durability, flexibility, convenience, and security. Check our full range of luggage to pick the best option for your travel plans.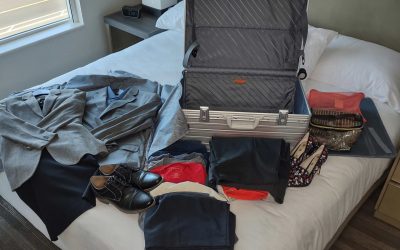 Who says traveling in a suit has to be dull and boring? With the right kind of case, you can do more than just look the part - it can also add fun, practicality and comfort your travel experience. Enter The 2 Suiter: designed with the busy businessman in mind this...