They carry important financial documents. They get confidential information from A to B. Without them, that crucial information might get lost in transit.
We're talking about briefcases.
A briefcase is a businessman's ally in all situations. The best briefcases for work can last for years without breaking stride. So how do you know what to look for in a briefcase?
This is your guide to buying a new briefcase. We'll look at all the essential components of a locking aluminum briefcase. Stick around while we go over the common briefcase features.
Choose the Right Locking Aluminum Briefcase Style
When buying a new briefcase, it's best to know your market. A businessman working with oil barons in Saudi Arabia has different needs from a businessman working with fracking owners in the Midwest. You want your accouterments to look good, but they need to fit the environment.
A locking aluminum briefcase is a great all-rounder. It looks sleek and commands the attention of the room. Polished military-grade aluminum gives the impression that you're a person of great import.
As the saying goes, dress to impress. A tuxedo would be ruined by a pair of sneakers. In the same vein, a shabby suitcase might not match your suit and tie.
So for our first tip, go for a briefcase that fits your business style. Polished aluminum is a great way to impress clients.
Weather Resistance
Business meetings can happen all over the world. They could be in rainy Seattle or blazing-hot Arizona. Your suitcase needs to keep up. 
Leather needs regular treatment and can crack with age. Leather clothes need waterproofing to withstand the elements. But even with that waterproofing, they come into business meetings soaked and in need of drying.
That's not the case with aluminum. Aluminum is light and durable. It does not rust, making it an excellent choice in wet environments.
Resistance to the elements isn't the only thing. Your briefcase should also protect the contents. Look for a locking aluminum briefcase that is watertight, protecting delicate papers and electronics.
High-Quality Parts and Durability
When comparing briefcase prices, it's tempting to go cheap. But as the saying goes, you get what you pay for. And as another saying goes, going cheap is expensive in the end.
If you're on the road a lot, then your suitcase will need to stand up to a lot of abuse. You're going to throw it into the car or onto your desk. You're going to open it countless times and put a lot of wear on the handle and latches.
And if you're a traveler, that means your suitcase will suffer the abuses of careless TSA agents and baggage handlers. Haggard passengers won't care as they make their bleary trip to retrieve luggage. People stuff their bags into overhead compartments with no concern for how it scratches other cases.
In short, your briefcase needs to be able to handle it all. A high-quality, locking aluminum briefcase will survive an atom bomb and then some.
So the question is if you want to buy a dozen briefcases, or one that lasts as long as you do.
Security
Briefcases can carry some incredibly important information. There's a good chance your company has entrusted you with documents that the competition shouldn't get their hands on.
Built-in locks make it so bad actors can't access your sensitive files. They're better than add-on locks since it's quite an endeavor to remove them. 
If you travel a lot, you need to keep your luggage inaccessible to baggage handlers. But put on the wrong lock, and the TSA will be forced to break open your luggage to check the contents. You need a TSA-compliant lock, which keeps your contents safe and only allows trusted persons to check it.
Further, you want a suitcase that has RFID-blocking technology. Hackers can put a scanner into their pocket and then walk through a crowd. Credit cards, access keys, and anything of the sort make it into their hands.
Make sure your briefcase has RFID-blocking built-in to prevent unsavory characters from accessing your data.
Size and Dimensions
Since this is hand luggage, it's important to compare the different briefcase sizes. If you're going to be carrying it in your hand all day, that could get tiring. You don't want too much extra space, and therefore weight.
Smaller, 15-inch briefcases are great for the bare necessities. They can fit folders, tablets, smartphones, and perhaps even some toiletries and clothes. If you have a small ultrabook laptop, this is a great way to stay light on the go. 
But if you're going on a long business trip with a heavy business laptop, you need more. A 17-inch suitcase has plenty of room for those big laptop screens, and plenty to spare for all the other necessities.
Sufficient Internal Storing Space
You've seen the old cartoons: a business tycoon stuffs an entire room's worth of stuff into his suitcase and then somehow gets it shut. But when buying a briefcase, the last thing you want is to open it to find your stuff scattered everywhere.
Internal sorting pockets are essential for briefcases for work. They allow you to separate documents from electronics. And in a hard case briefcase, they keep the more delicate parts from banging against the walls. 
Look for briefcases that have velcro straps, too, to tighten and sort your belongings. That way, you'll open your briefcase to find the same order as when you packed it. All the little things will remain in their velcro pouches, with your laptop secure in the soft material bottom.
Find the Right Briefcase for You
A locking aluminum briefcase is an essential tool for a businessman on the go. It withstands everyday stress, protects the contents, and makes it easy to pack them in the first place. Make sure to get these common briefcase features when buying a new briefcase for work.
Find the right briefcase for you. Get one that comes with a 10-year guarantee, made of the best materials available.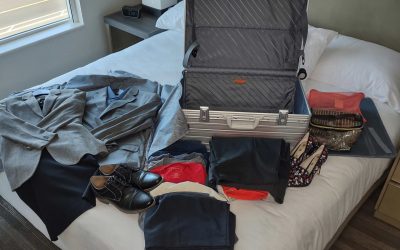 Who says traveling in a suit has to be dull and boring? With the right kind of case, you can do more than just look the part - it can also add fun, practicality and comfort your travel experience. Enter The 2 Suiter: designed with the busy businessman in mind this...