Every day, the FAA services over 45,000 flights. As the number of flights increases, the demand for sturdy and efficient luggage also rises.
Luggage is an important piece of equipment when traveling. Choosing the right kind of luggage can make a huge difference in your travel experience. There are many factors to consider when choosing luggage, such as size, weight, durability, and ease of use.
If you're looking for new luggage, silver aluminum is the way to go. It's strong and lightweight, so it can withstand years of wear and tear. Plus, it's always in style. Keep reading for seven useful benefits of investing in silver aluminum luggage.
What is Silver Aluminum Luggage?
Silver aluminum luggage is a type of luggage that is made from aluminum. It is usually silver in color, but it can also come in other colors. It is easy to clean and does not rust. Lightweight and durable, it is a popular choice for travelers.
Aluminum is a strong metal that is resistant to dents and scratches. It is also a good conductor of heat and electricity so it protects whatever is on the inside. Silver aluminum luggage is often used for business travel because it is professional looking and can be wiped down and cleaned.
For leisure travel, it is a good choice for those who want a lightweight bag that will not get damaged easily. Let's get into the benefits of traveling with silver aluminum luggage.
1. Durable
The cost of aluminum luggage is a major factor when assessing the benefits and drawbacks. Aluminum luggage is more expensive than soft-sided luggage, but it is more robust and lasts longer.
Silver aluminum luggage is durable because of the material it is made from. This material makes the luggage resistant to wear and tear, ensuring that it will last for many trips. So even though it's more expensive upfront, this investment pays for itself over the years.
Baggage handlers often mishandle luggage at airports. They toss them onto conveyor belts and sometimes even drop them on the ground. This can damage your belongings and make it difficult to get them back in one piece.
Silver aluminum luggage is less likely to get damaged or scratched, even if it is dropped or mishandled.
2. Lightweight
When choosing luggage, many travelers prioritize weight above all else. After all, the last thing you want is to end up paying overweight fees at the airport.
Silver aluminum luggage is a great option for those looking for something light. Because aluminum is such a lightweight material, silver aluminum luggage won't weigh you down when you're trying to make your way through the airport.
3. Easy To Clean
There are numerous types of luggage available, but silver aluminum luggage is a fantastic choice for individuals who desire something simple to maintain. A damp cloth wipe-down is all that is required to keep it looking new.
Aluminum is a non-porous material, so it won't absorb stains or dirt the way some other materials can. So if you're looking for luggage that will stay looking good for years to come, silver aluminum is a great choice.
4. Easier To Pack
Packing for a trip can be a daunting task, especially if you're trying to fit everything into a small travel bag. But with a little bit of planning and the right materials, it doesn't have to be so complicated.
One way to make packing easier is to use silver aluminum travel luggage. Hard-sided luggage is much more organized than soft-sided. Not only do they provide protection for your goods, but with compartments on either side of the bag, you can easily see what's inside and get at everything without taking all those layers off first!
There are several advantages to traveling this way, including keeping clothes clean by organizing them into separate piles depending on whether they're intended to be worn right out of the store (such as jeans) or reducing wrinkles during lengthy flights.
5. Added Security
Traveling can be stressful enough without worrying about the safety of your belongings. Silver aluminum luggage offers an added level of security and protection for valuables such as laptops and other electronics.
The metal is sturdier than conventional luggage options, so you'll worry less about damage by TSA screening equipment. In addition, the silver color helps to reflect heat away from the interior of the luggage, keeping your belongings cooler during long periods of travel.
As a result, silver aluminum luggage is an excellent choice for those who want to protect their belongings while on the go.
6. Weather Proof and Liquid Resistant
Whether you're going on a business trip or a beach vacation, you want to make sure that your belongings are well protected from the elements. That's why silver aluminum luggage is such a great option for travelers.
Not only is it weatherproof and liquid-resistant, but it's also incredibly lightweight and durable.
7. Looks Professional
Business-class travelers love the sleek look of new luggage. After all, first impressions matter, and you never know who you might meet on your travels.
That's why silver aluminum luggage is such a great option for those who want to look the part while on the go. Not only does it give off a sense of sophistication and success, but it's also quite practical.
Take your luggage from the flight to the boardroom and still look ready for your meeting with all your paperwork in tow.
Make the Sleek, Durable choice
Go for premium, high-quality silver aluminum luggage rather than a low-cost soft carry-on. If you travel often, it will save you money over the years. When choosing luggage, the security features, sleek design, and durability of this type of luggage make it the superior choice.
And that choice is no other than the Aleon brand. Our wide range of products offers something for everyone, whether you're looking for a small carry-on or large suitcase.
So don't wait any longer, make the switch to Aleon silver aluminum luggage today! Browse our selection here.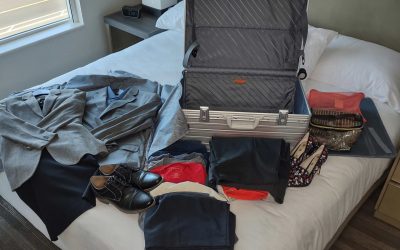 Who says traveling in a suit has to be dull and boring? With the right kind of case, you can do more than just look the part - it can also add fun, practicality and comfort your travel experience. Enter The 2 Suiter: designed with the busy businessman in mind this...