If you're like most business travelers, you hate checking your luggage. It's always a hassle to wait at the baggage carousel and then try to find your bags in a sea of other suitcases. Wouldn't it be great to take everything with you on the plane? With the ALEON trunk carry-on luggage, you can do just that! This compact piece of luggage is made of aluminum and has plenty of space for all of your business wear.
What is trunk carry-on luggage?
A trunk carry-on style luggage is a type of luggage shaped like a trunk. It is typically more significant than a traditional carry-on suitcase and has more storage space. We shrunk the famous large trunk-style suitcase and made it a carry-on.
Find everything you need to know about trunk luggage here
People love trunk-style luggage because it offers a lot of storage space in a compact carry-on. This type of luggage is perfect for business travelers who want to take everything with them on the plane. With the ALEON trunk carry-on, you can fit all of your business clothes and accessories in one convenient bag!
Closing the top part of the lid instead of having it open in the center gives you the most space to pack. The luggage will move quickly and glide around with you with rolling wheels.
ALuminum over softshell/fabric
There are a few reasons we made the ALEON trunk carry-on luggage out of aluminum. First, aluminum is a durable material that can withstand wear and tear. It's also lightweight, which makes it easy to carry around. Plus, aluminum has a sleek, modern look that will turn heads when you pull it out.
Security- The outside is zipperless, which will prevent theft and other mishandles. The zipperless trunk is also TSA-approved so that you can go through security without issues.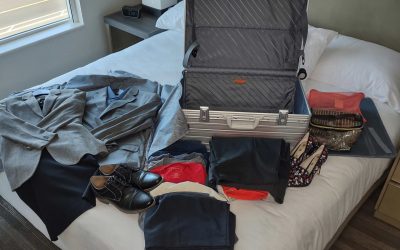 Who says traveling in a suit has to be dull and boring? With the right kind of case, you can do more than just look the part - it can also add fun, practicality and comfort your travel experience. Enter The 2 Suiter: designed with the busy businessman in mind this...