4.3 billion people traveled by air at some point in 2018.
While COVID-19 has grounded many travel plans, both for work and pleasure, people will be back to planning their vacations and business trips once things return to normal.
If you're going away for a while or packing a suitcase with your children, a large suitcase is ideal for holding everything you need.
In this blog post, we'll talk about the benefits of not traveling lightly, as well as some of the great options that Aleon has for you to keep your items safe and secure.
Read on for more information.
The Benefits of a 30 Inch Suitcase
While minimalism has been "in" in the past few years (think Marie Kondo and getting rid of anything that doesn't "spark joy"), something can be said for not packing lightly.
As we mentioned previously, a Large suitcase is a lifesaver when you have children, and a 30-inch durable case is perfect for everything they may need. When you go on vacation with kids, you have to expect that anything can, and will, happen. With a 30 inch suitcase, you can have everything you might need and more for every possible scenario.
Additionally, a 30-inch suitcase is perfect for weddings, beauty pageants, or other out-of-town events where you need to pack a gown or a suit. Some of our selections come with suiters to keep your suit or a dress nice and pressed and ready to hang up when you get to your destination.
A large suitcase is also fantastic if you're going abroad, or somewhere completely new, for an extended period of time. With your large suitcase, you can make sure you have all of the comforts of home with you. You can even use our durable cases to hoard snacks from home or souvenirs you may have bought while abroad and want to bring back with you.
If you're flying somewhere, however, be mindful of luggage limits. Depending on the class you're flying, you'll likely be restricted in how much weight you can add without paying extra.
30″ Macro Traveler Checked
If you're someone who isn't traveling with a suit or gown, or your suit or gown is in a separate garment bag, this bag is the one for you. It's also perfect for those who want security and the freedom to pack their items wherever they wish.
The Macro Traveler comes with two TSA resettable combination locks, so you can rest assured that if your luggage gets into the wrong hands, no one will rifle through it.
The bag also offers two compression boards so that you can fit as much as humanly possible into the bag, a great benefit if you're traveling with your kids or family.
This suitcase also has quad wheels so that you don't have to drag the suitcase behind you. Instead, you can easily roll it alongside you without too much trouble or tip it onto two wheels if necessary.
It's also got a multi-stage locking handle, meaning that no matter how tall or short you are, you'll be able to move the bag alongside you comfortably.
The 30″ Macro Traveler Checked comes in five stunning colors to make the bag's aircraft-grade aluminum-look chic.
30″ Macro Traveler with Suiter Checked
The 30″ Macro Traveler with Suiter is very similar to its cousin, but this bag offers, as you might have guessed from the title, a suiter. A suiter gives you a place to store your suit or a dress without it getting crumpled in your case.
This bag comes with one compression board instead of two, as it instead makes space for the suiter.
It is also a quad wheel, offers two TSA resettable locks and telescoping handles that lock at different stages to accommodate different heights.
This bag comes with double reinforced corners to prevent the corners from chipping or falling apart during rough baggage handling.
Also made of aircraft-grade aluminum, this bag only comes in the color platinum.
30″ International Trunk Checked
Do you want to transport yourself back to the olden days when people used steamer trunks to travel? If so, this suitcase gives you that aesthetic without you having to work about how to carry it around. Instead, it has quad wheels, which allow you to get around the airport or train station much easier.
Like its cousins, it also has double reinforced aluminum corners, a telescoping handle that locks at various heights, and two TSA resettable locks.
This model only has one compression packing board, but that's largely because the bulk of your items will go into the bottom of the case instead of on either side like the other models. To account for this, it also comes with a large packing cube to help you figure out where your different items are or to keep some easy to find.
Choosing the Perfect Suitcase for You
Choosing the perfect 30-inch suitcase for you largely depends on your needs and desires. It can also depend on your budget, as Aleon's cases range in prices, and if you care what color your suitcase comes in.
No matter which Aleon case you choose, you can rest assured that your items are safe and secure and that your bag won't accidentally get torn up by rough handling. All Aleon cases are protected for at least ten years.
Click here to have a look at our other checked baggage cases, which may suit your needs better than the 30-inch models.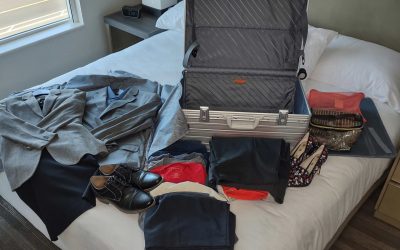 Who says traveling in a suit has to be dull and boring? With the right kind of case, you can do more than just look the part - it can also add fun, practicality and comfort your travel experience. Enter The 2 Suiter: designed with the busy businessman in mind this...