What do you consider some of the essentials when you're traveling? Everyone needs to pick luggage that can carry all of their toiletries, clothing items, electronics, and other important items. You should also consider whether or not you're planning to buy souvenirs that will require their own space in your bag.
As much as you may want to use a carry-on and avoid paying for extra luggage, any extended trip will need it. One option is going for something with at least 30-inches of space.
But how big is 30-inch luggage, and will it hold all your belongings without issue?
What to Consider When Buying New Luggage
There are various factors you should consider before you go luggage shopping.
What kind of environment will you be taking your luggage into, and how durable does it need to be? If you're using it in a place that has a lot of rainy weather, it may get wet. Canvas luggage might stain, while hard shell luggage will wipe clean.
In addition, there's the purpose of your luggage. A carry-on bag doesn't need to be especially durable or made of any special material. It goes where you go, so it's much easier to protect.
However, any luggage that holds electronics needs to be able to survive some abuse. Some pieces of luggage have special pockets to better protect your more valuable items. Hard luggage is better for protection than soft luggage, but only if it's packed full so the items can't shift around too much.
How Big is 30-Inch Luggage?
Luggage comes in a wide variety of sizes, ranging from as small as 16 inches to as big as 32 inches. Smaller luggage is usually considered carry-on luggage, while the larger options must get checked. Whether or not it'll fit in the plane's overhead compartment dictates if it's considered a carry-on or not.
Is 30-inch luggage too big to use as a carry-on? In all cases, yes. Thirty inches is on the higher end of the different luggage sizes you can purchase.
For almost all situations, the absolute maximum luggage size is 21 inches, length-wise. If you're using something over that number, then you'll need to check your luggage. It'll then be weighed and priced appropriately unless your ticket already includes checked luggage.
You also need to consider the total dimensions of your luggage. The airline determines size by the total dimensions rather than just the height. It's possible that something like expandable luggage will cost extra to take with you.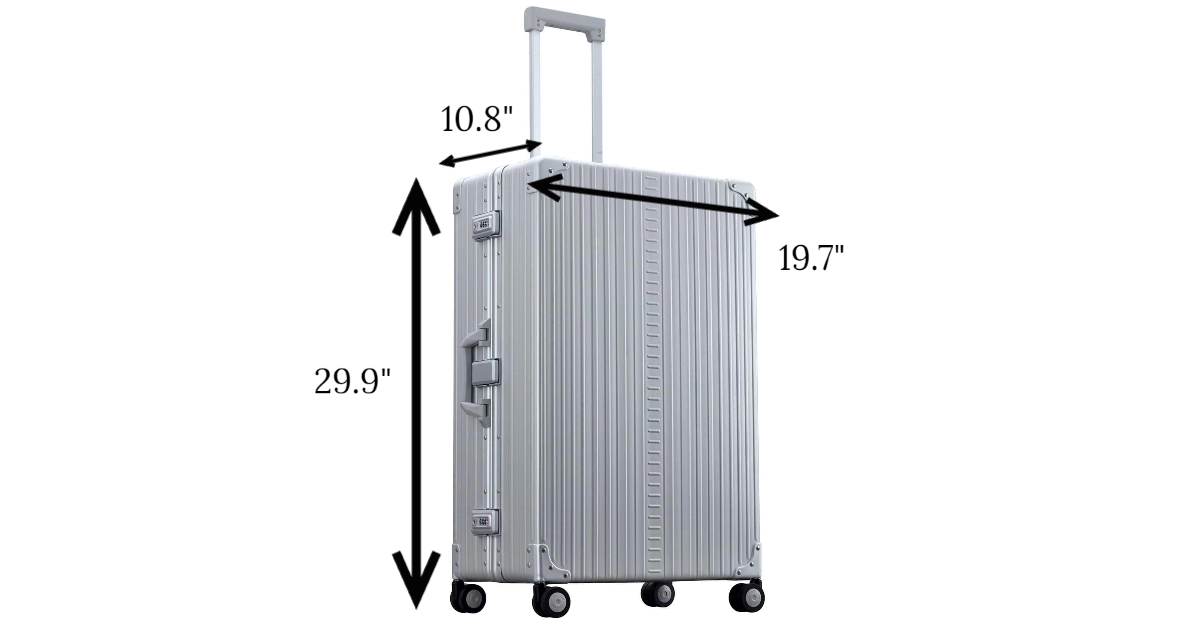 How Much You Can Fit In 30-Inch Luggage
Since 30-inch luggage is one of the largest luggage options out there, you can expect to fit pretty much everything inside of it.
The 30 inches refers to the exterior length or height of the case. Inside, it's more like 27 inches. If your case follows standard sizing, your luggage's interior will measure roughly 27 x 17 x 10 inches.
Those measurements will also depend on the case's material and how many pockets it has.
If you need to, you could pack entire outfits laid out in advance for special events. Take a week's worth of clothing and toiletries. You'll even have extra space for souvenirs or snacks you're bringing home.
One thing to keep in mind is that you'll only want to use 30-inch luggage if you plan to fill it. Extra space in your luggage will mean your items will shift around. Any valuable items may break if they're not properly secured.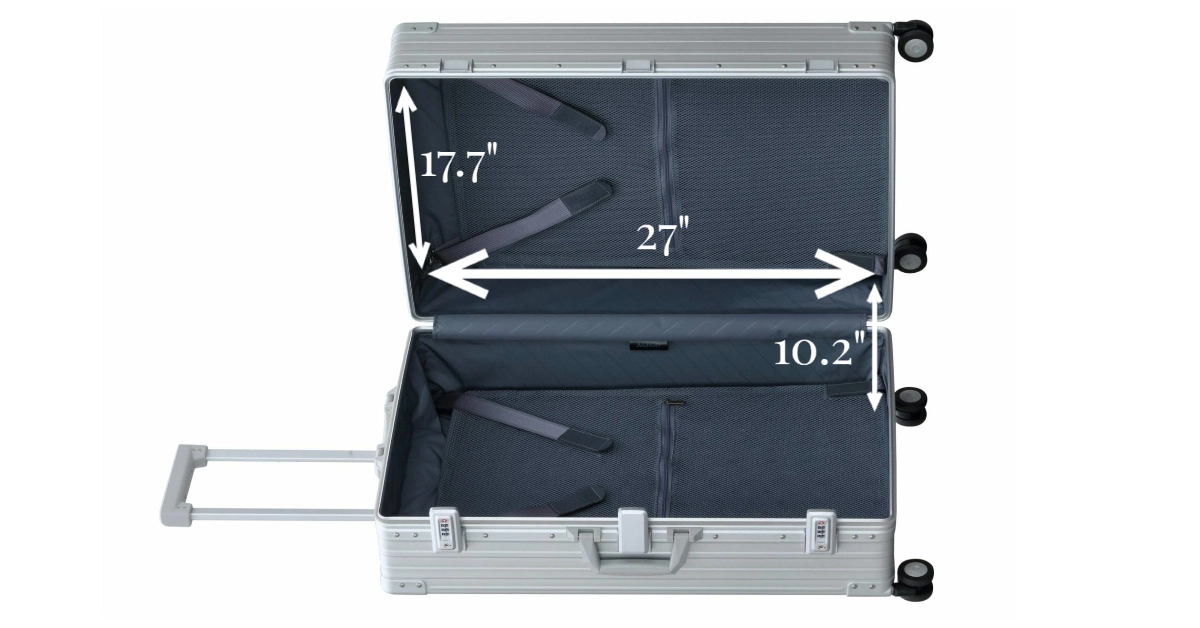 Luggage Size and Traveling
When is 30-inch luggage oversized? Even though that length is a normal size for checked luggage, it may be too big in terms of width or depth. Additionally, it may weigh more than what is considered standard luggage weight.
Most domestic airlines require that your luggage not exceed a maximum of 62 linear inches in size. That means the three measurable dimensions must not total more than that.
If you're using a soft bag, then it's possible to overload it and exceed those dimensions. The same goes for its weight.
Hard shell cases are much more difficult to overload, as the exterior material does not stretch or change shape. The benefit of no stretch is that you're less likely to go over the airline's weight limit.
Instead of overloading your bag, you may want to consider using another smaller piece of luggage that will work as a free carry-on.
Luggage Material
Depending on its materials, luggage size can be affected by how much you've packed inside of them. For example, bags made out of materials like canvas have some benefits, like flexibility and lower weights.
Hard shell luggage allows for much easier packing because it's more structured. What you see is what you get, and your items are better protected from impacts. You won't be able to squeeze them into small spaces, but their size and shape won't change like a soft bag might.
If you want some new hard-shell luggage, try out ones made from silver aluminum. They're extra durable, lightweight, and easy to clean.
Luggage Size and Weight
The size of your luggage also has an effect on its weight. 30-inch luggage is one of the largest options, so it's going to weigh more than a 26-inch one or your carry-on.
Most airlines have a maximum weight limit of 50 pounds per checked bag. This limit does not take into account size, so 30-inch luggage needs to meet the same requirements as 26-inch luggage. However, you're also working with about 10 percent more space.
Its weight is also affected by the material. Aluminum hard-shell luggage will weigh more than some other materials like plastic. However, you're also getting a more durable material that will last longer.
Picking the Right Luggage Size
How big is 30-inch luggage, and is it enough for your needs or too much? That wholly depends on things like how long your trip will be and how well you pack. Some people can get away with the smallest checked luggage, while others may require more space.
If you're still on the look for your next purchase, check out our ALEON luggage and briefcases. Our products are designed with a focus on functionality, durability, security, and style. Browse our stock online and subscribe to our newsletter for discounts and specials.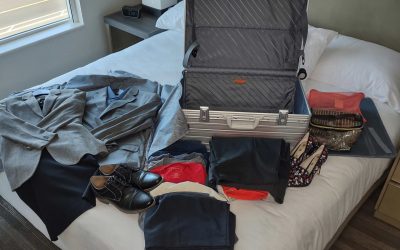 Who says traveling in a suit has to be dull and boring? With the right kind of case, you can do more than just look the part - it can also add fun, practicality and comfort your travel experience. Enter The 2 Suiter: designed with the busy businessman in mind this...