Europe has long been the epicenter for travel with easy to use railway systems and varying cultures nearby. There's so much to see and do; one trip to Europe is never enough. Rich history, incredible scenery, delectable cuisine, and all-around charm are part of what makes Europe so enticing. Visitors will experience luxury done the best way possible, the European style. Get your suitcase and luggage as we look at the top destinations in Europe for your next getaway.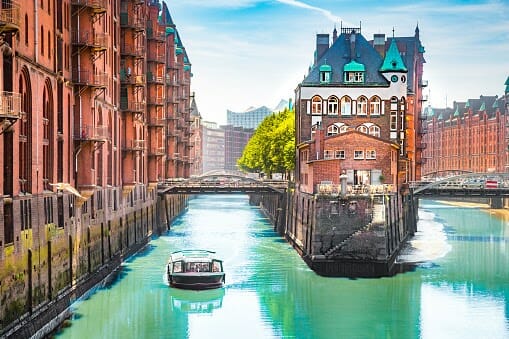 Hamburg is a city known for its liveliness. Reeperbahn is Hamburg's entertainment district and the center of nightlife. Restaurants, nightclubs, and bars are abundant in this area. In the 1960s, the Beatles could be found playing in the various bars for two years before their entertainment careers skyrocketed. If you'd like to see the Beatles monument, go to the intersection of Reeperbahn and Große Freiheit street.
Schmidt Theater is found in Reeperbahn, and if you like music and comedy, it's worth seeing a show. It will most likely be in German, but check with the ticket office beforehand. This small theater provides a fun, energetic entertainment. Other venues in Hamburg will be playing popular shows such as Mama Mia, Harry Potter, and the Cursed Child and Pretty Women.
Chocolate is to die for in Europe. Some may say chocolate wasn't invented in Germany, but it has been perfected here. A trip would not be complete with going to CHOCOVERSUM by Hachez. Take a 90-minute museum tour fully powered by chocolate. Along the way, you will be able to sample bitter to creamy chocolates as you watch the cocoa bean transform. Stop at the shop at the end of the tour. Buy some things you may have never considered having chocolate as an ingredient, including pasta, barbeque sauce, beer, and mustard. .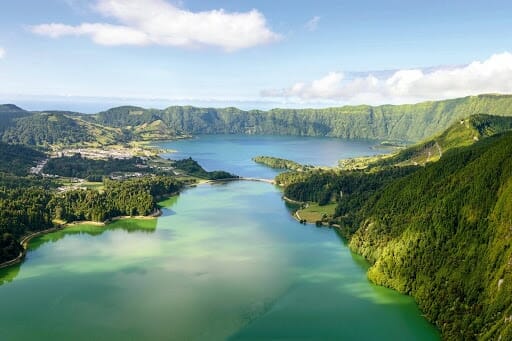 Are you looking to escape the business of Europe? Delta, in the past three years, has started offering direct flights to the Azores. These are a tropical archipelago off the coast of Portugal in the mid-Atlantic. These secret islands have the European charm without having to take one of the longer flights to Europe.
One significant aspect of Azores is that it is in the migratory path for dolphins and whales. A good time to see these migrations is in between April and October. April and May will be the best months to see the more massive whales if this is one of the primary reasons you'd like to visit these islands. Small concentrations of blue whales, which are the largest living mammal averaging between 70 and 80 feet long, pass through these waters. Spotting one of these massive creatures is sure to be a once-in-a-lifetime experience.
There always seems to be a festival or parade happening in Azores. Check a calendar to see what exciting events will be happening during your stay. During June, they have Cavalhadas São Pedro day, which includes people dressed in red and white clothing. All wearing hats covered in flowers as they ride horses through the streets. A feast and festivities follow after the parade through town. This curious tradition is thought to have been inspired by medieval knights and lancers, but you'll have to ask a local to get the full story.  
While you're here, the activity options are endless. Take a tour to see the Island's many stunning lakes. Check out the mountain bike trails, go canyoning, hike to a waterfall, go bird watching, take a dip on a geothermal site, or visit one of the islands' vineyards.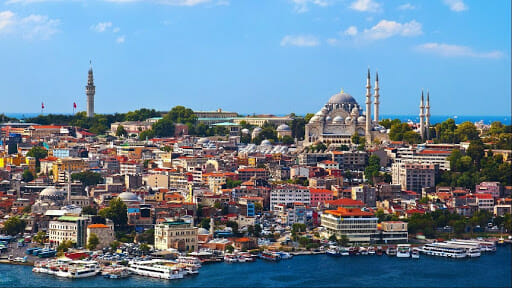 Formerly known as Constantinople, Istanbul straddles the border of Europe and Asia. It is the largest city in Europe with a population of 15 million and plenty of things to see and do. Take a walk into the Grand Bazaar for a genuinely indulging shopping experience. Being one of the largest bazaars in Europe, it will have you walking down corridors and finding new and exciting shops around every corner. Turks make beautiful pottery and lamps that you will want to keep for years to come. They also have some of the softest and most intricate scarfs and fabrics you will ever come across. Tea and spices are so famous in Turkish culture; they even have their own Bazaar. Your senses will be floored as you walk through the colorful displays of herbs and spices.
Visit the Hagia Sophia and the Blue Mosque to see some breathtaking architecture. The Hagia Sophia is a Greek Orthodox cathedral. It was a wonder to the world when it was built in AD 537 and remains so today. Look inside for the wishing column, a large pillar with a brass hole in it. If you stick your finger in, make a perfect circle, and your finger gets wet, then your wish will come true. Built around 1616, the Blue Mosque is an equally famous structure in Istanbul. The name comes from the incredible blue tiling in the interior of the mosque. Be sure to dress appropriately to enter by wearing a long skirt or pants, covering your neck and shoulders, and bringing a headscarf if you are female.
Take a break from the sun and head into the underground Basilica Cistern. Built by Emperor Justinian during the Byzantine Empire, the cistern was once used as an underground reservoir. It now contains only a little water for the public to be able to walk through the stone pathways and columns. Try not to get turned into stone yourself as two giant Medusa heads are the bases of massive columns.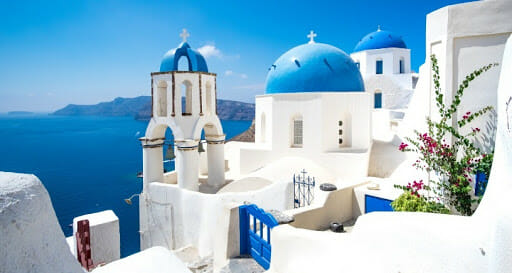 Cities don't get much more romantic than that of Santorini. The whitewashed walls, charming blue rooftops, scattered flowers, and the crisp Aegean Sea breeze will have you falling in love with Santorini in no time. Visit April – August for the most incredible mild weather. Make sure to dip in the blue waters of Aegean while taking a sailboat around the Island for a 360-degree view.
Take your time relaxing here and soaking up the sun. Enjoy breakfast on the terrace of Greek yogurt and honey, sausage, Greek bagels, and a militia (a Greek sweet cheese tart). Sip your coffee and breath in the bougainvillea, the vibrant pink flowers that are so beautiful.
Greece is also known for its incredible wines and olive oils. Stop at Santo Winery for an afternoon of tasting the country's spoils. The winery looks out over the caldera and has incredible views. Learn about the winery's volcanic soil and how it contributes to making some of the best wines. Reservations can be made online in advance by visiting their website. 
A visit to Chamonix will vary drastically, depending on which season you decide to go. Chamonix has incredible skiing and icy mountain landscapes in the winter. At the same time, summer is full of flowers and green hills begging for you to explore. The best views of Chamonix come by taking the Aiguille Du Midi Cable Car. The car leaves conveniently from the center of town and takes you 3,800 meters high on a 20-minute ride. You'll feel that you've reached the top of the world as you step out on the terrace in the Mont Blanc Massif. You may be surprised to learn that there are shops and restaurants this far up the mountain. Enjoy some French pastries on the terrace or "Step into the Void" for some extra adrenaline. This feature is a glass box that overhangs a cliff. Your stomach may drop as you look down and see nothing below you for hundreds of feet. Visit the history museum, and be sure to try and spot the Geant and Bosson glaciers. More information on the cable car and peak can be found here.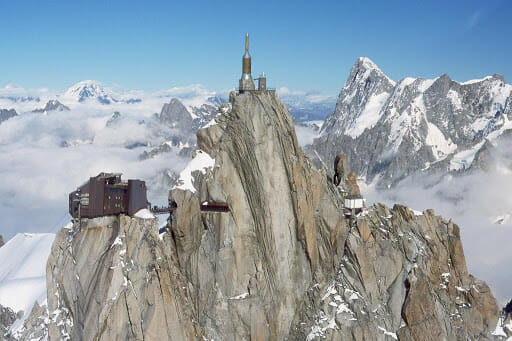 Try the Luge Alpine Coaster in Chamonix for a fun roller coaster ride down the mountain. These coasters can seat up to two adults, and the rider controls the speed. This activity is open in most seasons. However, you will want it to be a beautiful sunny day if you choose to take a ride on the luge during the winter. If you're looking to do more active sports, there's world-class golfing, tennis, paragliding, and hiking trails, to name a few.
Downtown Chamonix has beautiful, quaint buildings and plenty of shops. From craft knife shops to deco-retro French art, you're sure to find a unique souvenir to remember your trip. The antique shop, Le Dogue bleu Antiquités et Décoration, is worth stopping in to see what items they have been collecting and what's for sale. If you're into high-end french fashion, we recommend stopping at Blue Ink. You'll walk out looking ready for chic mountain soiree.